The Differences between Shuls in Israel and America
The riddles that I posted in the last post generated some interesting answers that hadn't occurred to me!


1) Which of the Sages is quoted by name very frequently in the US - hundreds if not thousands of times daily - but never in Israel?

Many people said Rabbi Yishmael, from the end of korbanos. But that's not really accurate, you can hear that said aloud in Israel too. The answer is R. Chanania ben Akashya, quoted in countless shuls in the US in order to justify saying kaddish:
רַבִּי חֲנַנְיָה בֶּן עֲקַשְׁיָא אוֹמֵר, רָצָה הַקָּדוֹש בָּרוּךְ הוּא לְזַכּוֹת אֶת יִשְׂרָאֵל, לְפִיכָךְ הִרְבָּה לָהֶם תּוֹרָה וּמִצְוֹת, שֶׁנֶּאֱמַר: י-י חָפֵץ לְמַעַן צִדְקוֹ יַגְדִּיל תּוֹרָה וְיַאְדִּיר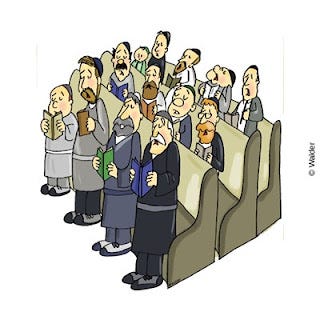 But I've never heard this done in Israel. It seems that in America, people are more keen to have opportunities to say kaddish. I'm not sure why that is.

2) What is the significant design difference between shuls (synagogues) in Israel and shuls in the US - that is to say, there is a very prominent feature that is found in every shul in Israel that I have seen, but which is missing from many and perhaps most shuls in the US?


Many people suggested dedicated washing basins for kohanim. I guess that's a fair answer, but it's not what I was thinking of. I was thinking of something to hold your siddur. Every shul in Israel has either tables or shtenders or "lips" on the benches to hold them. But plenty of shuls in America have nothing at all - even shuls which certainly have the budget for such furniture. Why is that? It's very strange, as well as encouraging poor posture while davenning. Does anyone have an explanation for this?