Discover more from Rationalist Judaism
Exploring the legacy of the rationalist Rishonim (medieval sages), and various other notes, by Rabbi Dr. Natan Slifkin, director of The Biblical Museum of Natural History in Beit Shemesh. The views are those of the author, not the institution.
Over 4,000 subscribers
The Dark Night Rises
On Shabbos I came across a parsaha sheet from the previous week, Shabbos Nachamu, about its relationship with Perek Shirah and the bat. Referring to the bat's verse in Perek Shirah, of nachamu nachamu ami, it presented a beautiful explanation of how the bat symbolizes perseverance and triumph through exiles. Just as the bat hangs upside-down, so too the world in exile is a topsy-turvy world. And just as the bat navigates through darkness via sonar, so too we can navigate through the dark night of exile until it lifts to reveal the dawn.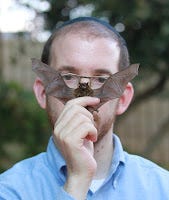 But as readers of last year's post entitled "I am the Bat Man," will recall, the source for identifying the bat as being present in Perek Shirah is none other than yours truly - and I made a mistake. I was explicitly very tentative with my suggestion, and eventually I decided that it was entirely without merit, and said so in the second edition. However, the first edition had already been used by ArtScroll in their edition of Perek Shirah. And so the bat entered Perek Shirah, resulting in all kinds of alleged metaphysical ramifications, as described in the earlier post.

There's no real harm done as a result of the error in the parasha sheet that I saw. It's an inspirational piece of writing. Still, it is alarming to see that an error of judgment that I made at the age of twenty-three is being adopted and elaborated upon fourteen years later!