Discover more from Rationalist Judaism
Exploring the legacy of the rationalist Rishonim (medieval sages), and various other notes, by Rabbi Dr. Natan Slifkin, director of The Biblical Museum of Natural History in Beit Shemesh. The views are those of the author, not the institution.
Over 4,000 subscribers
The Damage You Didn't See
Like many of my friends, when I heard that Israel had banned Rashida Tlaib and Ilhan Omar from entering the country, I saw this as a colossal mistake. What an utter PR disaster! True, Bibi might not have had much of a choice, given the pressure that Trump was placing. But, whether there was a choice or not, it was certainly a terrible course of action.

Then I started thinking about WWII fighter planes.

During WWII, the Allied forces had to figure out which parts of the plane most needed armor protection. So researchers from the Center for Naval Analyses studied the bullet holes which appeared on returning planes, and found that the bullet holes occurred in the following places: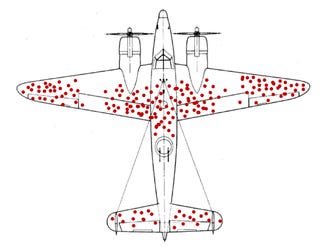 Accordingly, the researchers recommended that the areas with the red dots should receive the armor plating. It's obvious!

But Abraham Wald, a religious Jewish statistician who had escaped Austria, pointed out that exactly the opposite was true. The planes with the bullet holes in these areas were the ones that had survived the missions and returned. It was the planes which had been hit in the other areas which had not survived the mission.

This is known as survivorship bias, and it is a form of selection bias. It's concentrating on that which is visible, without realizing that the thing which is not visible might be more significant.

I think that this is exactly the case with the Tlaib/Omar debacle. Yes, it was a disaster. But we're not seeing what the alternative would have looked like. Had they come, they would doubtless have used every opportunity to make some kind of PR scene that would demonize Israel. Starting confrontations with soldiers, making scenes at Temple Mount, inciting riots, etc., etc. And it would have been scenes with gripping photos and video, unlike the story of their not coming, which had no accompanying visuals. Stories with no visuals grab much less attention than stories with visuals.

It was a no-win situation for Israel. We can't assume that just because the situation is terrible, that the alternative would have been better.

It's kind of like Israel retaining control over Judea and Samaria.