Discover more from Rationalist Judaism
Exploring the legacy of the rationalist Rishonim (medieval sages), and various other notes, by Rabbi Dr. Natan Slifkin, director of The Biblical Museum of Natural History in Beit Shemesh. The views are those of the author, not the institution.
Over 4,000 subscribers
The Charedi Dog Tax
This is a post which was first conceived as a critique of charedi MKs, but as I researched the topic further, I decided that the charedi MKs actually overall have a good point!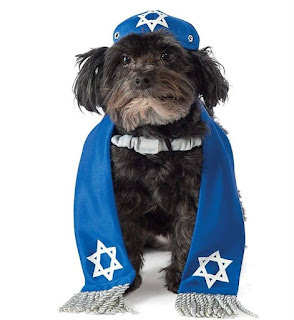 United Torah Judaism has submitted a bill to raise the registration fee for owning a dog. It currently stands at 50 NIS, but UTJ wants to raise it to a massive 3500 NIS! The alleged reason is to "help the environment," since, as MK Moshe Gafni said, dogs eat large amounts of processed meat that emit carbon, and their droppings are picked up with environmentally harmful plastic bags. Aside from reducing the amount of dogs, the funds raised by the tax can be used to help the environment.

Now, it's pretty obvious that this is not actually the reason for the bill. Charedim are not exactly at the forefront of concern for the environment - in fact, they are generally hostile to such concerns, seeing them as "goyish." And they are the greatest users of disposable plastic. So what is this bill actually about?
You might think that it's about hostility towards dogs. Certainly, dogs are not generally found in charedi neighborhoods (though it is not as unthinkable as it used to be - there are even dog owners in Kiryat Sefer). About twenty years ago, I was in a small private va'ad with Rav Moshe Shapiro and he declared that "anyone who knows anything understands that dogs are the very essence of evil." (It was already at this point that I began to be uneasy about him - having studied quite a lot about dogs in Judaism, I knew that the picture was much more nuanced.) So is this bill about enshrining charedi sensitivities into law? I saw people jokingly ask if a tax on jeans would be next! 
But in fact, it's absolutely nothing to do with antipathy towards dogs. Like absolutely everything in charedi politics, it relates to the interests of the charedi community.
As mentioned earlier, charedim are the largest consumers of disposable plastic. They were therefore particularly stung by a new law that went into effect recently, which placed a very high tax on such plastics. Charedim perceived it as a deliberate effort to harm their community. The dog tax is their shot back.

Personally, I don't believe that the plastics law was remotely a deliberate attempt to harm the charedi community. There are many people who sincerely care about the environment, and disposable plastics are a real problem. According to one shocking study, by 2050 the world's oceans will contain more plastic than ocean life. Several countries decided to entirely ban disposable plastics. But Israel has been one of the worst offenders. On a per capita basis, Israelis consume the largest number of plastic cups in the world. And the amount of waste along the beaches of Israel is the highest in the world. The quantities of tiny plastic particles off Israel's coast are nine times higher than the average in other Mediterranean countries. It's clearly a serious problem.
Still, while the plastic tax was not targeted at charedim, it certainly affected them disproportionately. The reason why charedim are the largest consumers of plastic is simple: large families, and large get-togethers. It's simply extraordinarily difficult to run a family of ten people without using disposable plastic.
Making a sacrifice should, and can, be done. Indeed, as a result of the new taxes, the usage of plastics this Pesach dropped by 50%. But charedim are entitled to ask why it is specifically their community which has to make a difficult effort to help the environment, and not other communities.
It's relatively easy for a secular family to avoid using single-use plastic. But they harm the environment in other ways. Cars, and especially planes, are highly damaging to the environment, and are used far more by non-charedi families. 
And then there are dogs. Gafni might have been disingenuous about his motives for the bill, but his given reason was absolutely correct: dogs are indeed damaging to the environment. Their diet alone accounts for up to 30 percent of the environmental impact from all animal production. Owning a medium-size dog can have a similar carbon footprint to a large SUV. Dogs rank third in their ability to disturb other species, outdone only by cats and rodents; they have driven 11 species into extinction, and they threaten another 188. If people want to enjoy the benefits and pleasures of owning a dog, it is reasonable to ask that they offset the environmental damage.
I would like several lessons to be taken from all this. First is that we really do all need to take environmental concerns more seriously (including me). Second is that it's all too easy to point at shortcomings in other communities, but we need to be more aware of our own shortcomings. And third is that the instinctive reaction to a headline is not necessarily the correct one!
(If you'd like to subscribe to this blog via email, use the form on the right of the page, or send me an email and I will add you.)