Discover more from Rationalist Judaism
Exploring the legacy of the rationalist Rishonim (medieval sages), and various other notes, by Rabbi Dr. Natan Slifkin, director of The Biblical Museum of Natural History in Beit Shemesh. The views are those of the author, not the institution.
Over 4,000 subscribers
"The Biggest Enemy of the Jewish Nation"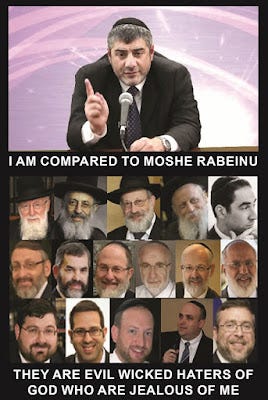 A few weeks ago, sixteen rabbis with a reputation for scholarship and sensibility issued a rare letter of criticism against Rabbi Yosef Mizrachi, due to his publicly issuing a variety of disgusting statements against handicapped children, secular IDF soldiers, Holocaust victims, and so on. Since he's giving a lecture in my neighborhood tomorrow night, I decided to follow up on something.

In a lecture that Rabbi Mizrachi posted on YouTube, entitled "The Biggest Enemy of the Jewish Nation," Rabbi Mizrachi begins by responding to the letter that was written against him. He first says that "we shouldn't care about this," but then spends the next half an hour trashing the sixteen rabbis. This includes some truly astonishing insults:

"The Satan is going crazy and sends all the liberals and all the fakers to make a lot of noise in the last few weeks... he finds these wicked people to make noise... These people call themselves rabbis... they went to the university, the university messed up their minds... Whatever is in the mind of these people... that they somehow want to ignore an ocean of knowledge that came from our holy rabbis... they want to re-invent Judaism to be a modern, rotten religion... [Referring to the letter written against him:] Only an evil, wicked person, a hater of Hashem is able to do such a thing. There's no other explanation for such people. They are mamash the erev rav that the Zohar speaks about... The Zohar says that before Mashiach come, all these erev rav wicked people, the first thing Hashem will do is clean them from the earth. That's what will be their end.... Mashiach will be a real chareidi guy. He won't be a rotten person from university. He won't be a liberal... Mashiach won't have sympathy for people that break Shabbat..."
But he saves his nastiest insults for Rabbi Joseph Dweck, whom he (mistakenly) believes to be the mastermind of the letter:

"...This Dweck that started all of this - שם רשעים ירקב... Reform is more righteous than him. I don't understand how in London they accept such a monster to be in their community... According to the halacha, a person like this, you are not allowed to stand within four amot of him... Someone like this, cannot be part of a minyan... Somebody like this should be in a ban for eternity... This is the biggest enemy of the Jewish nation... Someone like this must be stopped... This person is mamash the biggest enemy of the Jewish nation. I didn't find a wicked person like him in 23 years... What's the connection between him and Judaism? Can you find one positive thing that this person did for the Jewish nation, besides spreading lashon hara on the internet non stop? What did he do? ...How can he make a Jew Shomer Shabbat when he himself is not Shomer Shabbat? ...If this person has supporters among our nation, that means they are just as bad as him..."
I do not know Rabbi Dweck. I do know that people whom I respect, respect him greatly. I also know that he studied with, and received semicha from, Rav Ovadia Yosef, and also married his granddaughter, which is presumably not a shidduch that is offered to just anyone. Rabbi Dweck also led a community in New York which he expanded from 50 families to 350 families, headed a school, and is now senior rabbi of the prestigious Spanish and Portuguese synagogue in London. In light of all that, I find Rabbi Mizrachi's description of him as a "wicked monster with no connection to Judaism who has done nothing positive for the Jewish nation and is the biggest enemy of the Jewish nation" to say a lot more about Rabbi Mizrachi than it does about Rabbi Dweck.

When I mentioned this to an acquaintance of mine, a sensible person who is inexplicably a fan of Rabbi Mizrachi, he said to me, "Look, Rabbi Mizrachi was attacked, so he lashed out." It's true that Chazal say that you should never judge a person until you are in their place. However, I was in his place, so I can judge. I know what it's like to be publicly condemned, in far worse (and less justifiable) circumstances than with Rabbi Mizrachi. But I certain did not slander my opponents in the way that Rabbi Mizrachi did!

Anyway, I want to get to the main point here. Rabbi Mizrachi claims that the criticisms of his statements have no basis, because he wasn't saying anything new:

"I tell you the truth, twenty-three years I speak, I don't remember even one time that I said something that it doesn't have a source!"
Now, that is quite a staggering claim, in light of Rabbi Mizrachi having stated the following:

Down's syndrome and autism are punishment for the sins of a previous life
Mixed dancing and immodest women's clothes cause cancer
The Sassoon children died because of sins such as women wearing immodest sheitels
When children are born blind, it's because they watched pornography in their previous lives 
Going to college will turn you into a non-Jew and this is why the Holocaust happened to the Ashkenazim, not to the Sephardim
Children born to parents who were not observant of taharat ha-mishpachah have an uncontrollable desire for fornication
If an IDF soldier is mechalel Shabbat, he has no share in the World-to-Come
How can he claim that he is simply repeating earlier sources? In the video, Rabbi Mizrachi explains why he is simply a "vessel" for the Gemara. This is because the Gemara says that there is no suffering without sin. And we frequently find the concept that God works measure-for-measure. Hence, if, for example, children are born blind, it must be as punishment for sin in their previous lives. And since punishment is measure-for-measure, it must be that in their previous lives, they watched pornography.

In a previous post, Theodicy and Idiocy, I noted how making such statements, even if true, would be a transgression of ona'as devarim. In this post, I would like to explain why it is false for Rabbi Mizrachi to claim that he is simply repeating earlier sources.

Let's begin with this: Did you know that Rambam does not have a place in the World-to-Come? Also Yitzchak Meir Helfgot! And lots of other people you know! It's true, I have a source for it!

"Seven do not have a place in theWorld-to-Come: a clerk, a scribe, the best of physicians, a judge in his city, a magician, a chazzan, and a butcher" (Avot d'Rabbi Natan 36)
Was not Rambam the best of physicians? And is Helfgot not a chazzan? So you see that they have no place in the World-to-Come!

Of course, it would be absurd to state such a thing, and nobody does. Every serious student of the Talmud understands that the Sages made many terse statements which are often contradicted by statements elsewhere and which cannot simplistically be translated into the real world. If you do, then the responsibility lies with you, not with the Sages.

Let's take the concept that "there is no suffering without sin." As Rav Yitzchak Blau points out, the Gemara in Shabbat 55a-b clearly implies that some suffering bears no causal relationship with sin, and the Gemara in Berachot 5a and other Talmudic sources support this idea. In fact, it's an enormously complicated topic, debated by many Rishonim and Acharonim, and certainly not something that can be repeated as a simple truism.

The idea of God working "measure for measure" is even more fraught with complexity. Was Yitzchak blind because he looked at improper sights? Did Moshe Rabbeinu have a speech impediment because he spoke lashon hara? Was Rabbi Akiva tortured by the Romans because he tortured other people? Is Yosef Mizrachi being trashed because he trashes others? (Well, yes.) It's impossible to translate the concept of "middah keneged middah" into real-life events, unless you're a prophet.

Rabbi Mizrachi is certainly not simply a "vessel" for the Gemara. He is making his own claims of how to explain why bad things happen to good people - something that even Moshe Rabbeinu didn't understand. But Rabbi Mizrachi's arrogance knows no boundaries. In the past, he has boasted about being compared to Moshe Rabbeinu, but now he is even smarter than Moshe Rabbeinu! In this video, he also boasts of having allegedly made nearly 150,000 people religious! And he claims that those who oppose him are not just the enemies of Yosef Mizrachi - they are the biggest enemies of the entire Jewish nation!

As for Rabbi Mizrachi's explanations of why various bad things happen, they are extremely silly (mentioning sheitels in a lecture about the Sassoon tragedy?!) and highly offensive. He deserves every bit of criticism that he received. And his disgusting trashing of the rabbis that criticized him speaks volumes about his character. If you're an intelligent, decent person, you should be finding other rabbis from whom to draw inspiration.