Discover more from Rationalist Judaism
Exploring the legacy of the rationalist Rishonim (medieval sages), and various other notes, by Rabbi Dr. Natan Slifkin, director of The Biblical Museum of Natural History in Beit Shemesh. The views are those of the author, not the institution.
Over 4,000 subscribers
The Big IDF Lie
There's a shocking headline in the news today. It turns out that for several years, the IDF has been deliberately falsifying the number of charedim that enlist, in order to give the appearance of meeting draft goals. To quote from The Jerusalem Post:

Although it was previously thought as much as 35% of haredi men of military age were serving in the IDF, in reality that less than 15% are serving in the military... The real figures mean that the targets for haredi enlistment over the last five years have been missed by huge margins and previous assumptions that steady albeit slow progress on the goal of increasing the number of haredi men in military service are totally wrong... The upshot of the revelations are that the state has almost totally failed in its goal to increase equality in the burden of military service...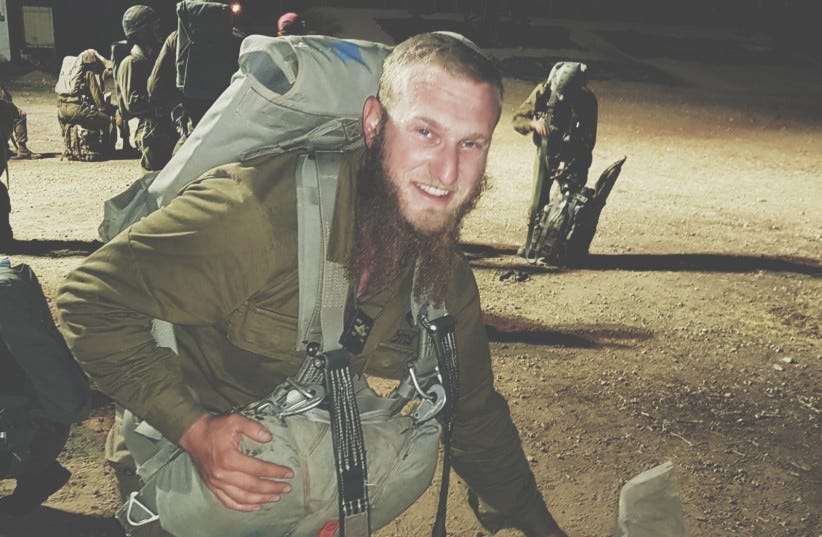 To be honest, I personally was not surprised (and I think that even 15% sounds too high). Over the last few years, a number of people have argued that charedim are gradually joining the IDF, with many thousands of charedim signing up, but these claims never made sense to me. I live in a predominantly charedi town, and if there were so many charedim in the IDF, I would have been aware of it!

Furthermore, it's been clear to me for a while that many so-called charedim in the IDF are not charedi at all. Nachal Charedi (Netzach Yehudah), for example, is often touted as an example of charedim integrating into the IDF. Now, Nachal Charedi is certainly a wonderful institution, but it's not what people think. Many of its recruits are Dati-leumi boys who want a higher standard of kashrus and so on. Ironically, the Jerusalem Post article linked abovet has a photo of a "charedi soldier", provided by Nachal Charedi and shown here - but he's not wearing a black kippah! Many others in Nachal Charedi come from charedi homes, but are going against what their families wanted for them, and have dropped out of charedi society.

No doubt the revelation that the IDF has been lying about charedi recruitment will be met with demands of forced conscription. And it is clear that there is no adequate halachic basis for mass refusal to conscript, and certainly no ethical basis. Moshe Rabeinu's call rings as true today as ever: "Shall your brethren go to war, while you remain here?"

Nevertheless, I think that calls of forcing charedim to join the IDF are futile and counterproductive. It's just not going to happen. You can't force communities of hundreds of thousands of people to enlist if they are utterly opposed to it. They would rather go to prison, and there isn't enough prison space for all of them. It would just cause civil war.

So what can be done? Not a lot (although more could be done to strengthen institutions such as Rabbi Karmi Gross's Derech Chaim). But there's a much bigger problem than charedim not enlisting in the IDF: it's charedim creating a society which shuns secular education and sees living off charity as preferable to working. This is what could lead to the collapse of the country. And that's a problem that can be solved, albeit slowly and with difficulty. It requires a multi-pronged strategy, including financially incentivizing charedi schools to provide a rudimentary secular education (and penalizing those which don't) - and perhaps even relaxing the draft laws.

Yes, that's right. Much as it is wrong and unfair for an entire sector of Israel society not to serve in the IDF, we have to face reality. And the reality is that in the long run, Israel needs charedim to be a part of the economy. It's crucial to get them out into the legal workforce, rather than being in kollel out of a desire to avoid the draft. That's where the emphasis needs to be, as unfair as it is.

I'm not saying that Israel should simply automatically exempt charedim from enlisting - that would be too much of an unfair social burden on the rest of society. I'm saying that the focus needs to be strategic, on creative ways to integrate charedim into society, rather than insisting on the principle of equality vis-a-vis the draft.

And for those of us with any influence on charedi society - we have to be clear as to what the Torah requires. Both clear in our own minds, and able to clearly convey it to others. I received a call the other day from a rabbinic colleague in Har Nof, who told me that he's noticed certain trends in the pitches delivered by charedim collecting money in shul. One frequently recurring theme is a person with a dozen children collecting for medical expenses for his wife, who is suffering from mental health problems. No kidding! Another common type of appeal is from a young chosson, saying that his father is overburdened from marrying off all his older siblings, and so he is helping his father by collecting for himself!

We have to make it clear: Working to support one's family and to be a productive member of society is not a yetzer hara and is not a bedi'eved. It's an imperative. There's no hope of getting charedi society to share the burden of defending the country, but we have to try our best to influence them to support themselves and the economy.


Reminder: You can subscribe to this blog via email using the form on the right of the page. Or send me an email at director@biblicalnaturalhistory.org and I will add you.