Testing Poe's Law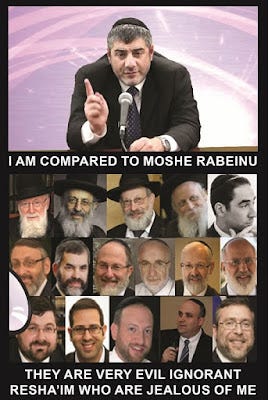 The story so far: Rabbi Yosef Mizrachi, who brags about being called "the Moshe Rabeinu of this generation," has for many years given lectures with hateful teachings. Sixteen rabbis, representing a fairly broad spectrum, who have reputations for being outstanding people and responsible leaders, condemned his approach as simplistic, misleading, arrogant, creating chillul Hashem, and being objectionable and dangerous. Rabbi Mizrachi responded with a video, posted on his Facebook page, in which he did not attempt to defend himself against a single one of those charges. Instead, he described his critics as "very evil" "ignorant" rabbis who are "resha'im" and who have never been mekarev anyone (!) and who are "jealous" of his kiruv system which is "the most successful kiruv system in the world, perhaps in history"(!!). He adds that "We did research on each one of them, unfortunately they have a lot of problems, each one of them." 

A friend of mine, Rabbi Scott Kahn, posted the following comments on Rabbi Mizrachi's response, but they were soon deleted:

How DARE you speak motzi shem ra against these rabbis, saying things like, "We did research on each one of them, unfortunately they have a lot of problems, each one of them." I know some of them, and can testify about those whom I know that they are wonderful people who are moser nefesh for Klal Yisrael. Even if you are right - and you decidedly are not - how can you say such things even if you disagree? How can you speak so negatively about people who disagree with you? How dare you do such a terrible thing? Have you ever thought about the possibility that perhaps some of their criticisms are not ignorant? And that even if you disagree with those criticisms, these rabbis are trying to do the right thing? And unless you are 100% sure that they are evil people, how can you call them reshaim? I know some of them; they are not reshaim, to say the least. Not everyone who disagrees with your approach, and who thinks that your approach is dangerous, is a wicked person. Motzi shem ra is one of the most serious prohibitions in the Torah; I suggest that your choir of supporters think about this before running to your defense.

Yesterday I took on an immense challenge. I attempted to persuade a follower of Rabbi Mizrachi that it was severely inappropriate to endorse and spread his response, which does not defend his approach and instead slanders these sixteen rabbis in the most appalling way. (The only reason I even tried to do this is that I slightly know this follower, and my impression is that he is an intelligent, sensitive person. Furthermore, I was fairly sure that this person knows, or knows of, some of the 16, and would surely realize that they are not very evil resha'im who have never been mekarev anyone!)

Unfortunately, I got absolutely nowhere. The person insisted that it's basic Torah hashkafah to say that sins get punished (which in this person's mind seemed to translate to saying that secular Jewish women acted without concern for their modesty at the gas chambers during the Holocaust, that IDFsoldiers who are mechallel Shabbat have no share in the world to come, that children who are born with blindness are being punished for watching pornography in previous lives, and that people contract cancer as a result of sexual licentiousness and dirty thoughts). The person believed that there is no basis for saying otherwise, and thus, the rabbis who criticized Rabbi Mizrachi are indeed very evil resha'im. The most that I could get this person to concede was that Rabbi Mizrachi's claim that these 16 rabbis have never done any kiruv "might be an exaggeration."

Afterwards, a thought struck me. If it's impossible to get them to listen to reason, is there any other way to get them to see the absurdity of their position? Is there any hope of demonstrating to them that Rabbi Mizrachi is supremely arrogant? Is there any way for them to see the hypocrisy of criticizing these rabbis for the terrible sin of criticizing a rabbi who criticizes rabbis?

Perhaps it is possible to go in the other direction - to express support for Rabbi Mizrachi so strongly, that they see its absurdity? I posted the following comment on the Facebook page of another of his supporters who had shared Rabbi Mizrachi's response:

It's terrible, Rabbi Mizrachi has made more baalei teshuva than anyone else in history, he is greater than Moshe Rabeinu. Then all these evil reshaim rabbis are trying to murder him! Why is he suffering so much? It must be a Tikun for all his averot in his previous gilgul.
That succeeded in getting a "Like" from the person who had posted it!

I've been banned from posting on Rabbi Mizrachi's own page, along with others who have written critical comment. But someone submitted the following:

Rabbi Mizrachi is an amazing Holy Rabbi! He has made over 500,000 baalei seshuva. He is like Moshe Rabbeinu! It is the BIGGEST SIN to speak out against a Rabbi. The 16 "rabbis" who criticized him are going to burn in fiery depths of the worst Gehinnim forever and ever. They will suffer excruciating agonies of the body and soul, burning endlessly in the Fires of Hell. These rabbis are the most evil reshaim. How dare anyone criticize a rabbi!
This comment, which was submitted sarcastically, is still standing!

There is an Internet adage called "Poe's law." It states that, without a clear indicator of the author's intent, it is impossible to create a parody of fundamentalist views so obviously exaggerated that it cannot be mistaken by some readers or viewers as a sincere expression of the parodied views. I think that it would be an interesting experiment to see how far this can be pushed. Are Rabbi Mizrachi's followers so blindly besotted with him that they will tolerate and believe any lie, heresy or slander in his support? Try it yourself at this link!