Discover more from Rationalist Judaism
Exploring the legacy of the rationalist Rishonim (medieval sages), and various other notes, by Rabbi Dr. Natan Slifkin, director of The Biblical Museum of Natural History in Beit Shemesh. The views are those of the author, not the institution.
Over 4,000 subscribers
Summer Lecture Schedule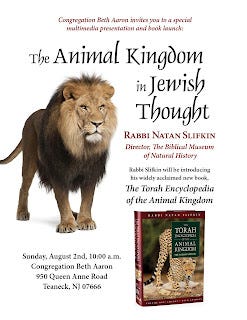 Here is my lecture schedule so far for August:


Shabbos August 1 - Bais Medrash of Bergenfield
Sunday August 2, 10am - "The Animal Kingdom in Jewish Thought - Multimedia Presentation and Book Launch" - Beth Aaron, Teaneck
Wednesday evening, August 5 - K'hal Bnei Torah ("Rabbi Schiffenbauer's shul"), Marine Park
Shabbos August 8 - Young Israel of Lawrence/Cedarhurst

I still have some availability in early August in NY, and in LA in mid-August, so please be in touch if you would like to arrange something, be it a community lecture, parlor meeting or private meeting.

If you're going to be in Israel, don't forget to book a tour at The Biblical Museum of Natural History!