Discover more from Rationalist Judaism
Exploring the legacy of the rationalist Rishonim (medieval sages), and various other notes, by Rabbi Dr. Natan Slifkin, director of The Biblical Museum of Natural History in Beit Shemesh. The views are those of the author, not the institution.
Over 4,000 subscribers
Sugar for Elephants
Longtime followers of my work will remember the brouhaha surrounding elephants and olives. Several years ago, it transpired that some people not only believe that Chazal (the Sages of the Talmud) were omniscient and infallible about scientific matters, but also the Rishonim (the Torah scholars of the medieval period).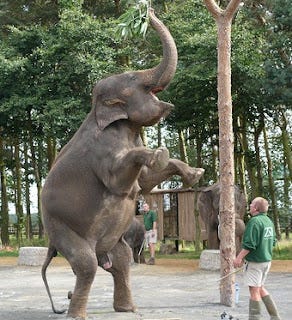 In one episode, I was asked by some students about a Tosafist stating that an elephant could be made to jump up in the air, with all four legs, in order to retrieve food. I responded that this is not possible (elephants can rear up on two legs, but not jump entirely into the air). I pointed out that the Tosafist concerned had never seen an elephant, and would reasonably have believed it to be possible that elephants can jump. (See The Case Of The Jumping Elephant.) This led to a minor uproar; how could I accuse the Tosafist of being wrong?!

In another episode, I wrote a monograph to explain why the Rishonim of Ashkenaz, unlike the Rishonim of Sefarad, rated the kezayis as being such a large quantity. My answer was that the Rishonim of Ashkenaz never saw olives and were misled into thinking that they are large. Despite the overwhelming evidence that I brought for this, including testimony to this effect by some Ashkenaz Rishonim, my monograph was nevertheless rejected by a certain halachic journal on the grounds of it being insufficiently appreciative of the greatness of the Ashkenazi Rishonim.

In a similar vein, I have recently been engaged in debate with various people regarding the identifications of various animals in the Torah given by European Rishonim (such as identifying the tzvi as the deer, and the shafan as the rabbit). When I pointed out that these Rishonim were unfamiliar with the animals of Israel (such as the gazelle and hyrax), and were thus unable to correctly identify the animals of the Torah, the response was that I did not appreciate that these Rishonim did indeed possess such knowledge, due to divine inspiration or suchlike.

Of course, my position can be well defended; since there is widespread support for saying that even the Sages of the Talmud possessed no special knowledge of the natural world, certainly the same is true for the Rishonim. Still, it always helps to have additional and specific support. And so I was pleased when my friend Yeedle made a great discovery regarding sugar.

What berachah should be made upon eating sugar? Usually we make she'hakol on the juices and extracts of fruits, because by extracting the juice from a fruit, it is no longer halachically a fruit. But one of the exceptions to this rule is if the fruit was planted specifically for the purpose of extracting its juice. In such cases, the juice itself is considered the fruit, and one makes a berachah of  borei pri ha'etz.

The Tur, i.e. Rabbi Yaakov, son of the Rosh, following his father, rules that one says borei pri ha'etz on sugar. He explains that since the sugarcane itself isn't edible, it must be that the canes are planted for the extraction of their juice in order to make sugar, and therefore the sugar is considered as the fruit of the sugarcane, it deserves the berachah of ha'etz.

However, none less than Rav Yosef Karo negates the Tur's view, as follows:

 ואני אומר שאילו היו קנים הללו נמצאים בארצו של הטור לא היה טוען כן. שבמקום שנמצאים מוכרים מהם לאלפים ולרבבות למצוץ אותם. 


And I say, were these canes found in the land of the Tur, he wouldn't have made such a claim. Because in the places where they are found, they are sold in the thousands and ten thousands to be sucked. (Kesef Mishneh, Berachos 8:5)
In other words, since sugarcane only grows in tropical regions, the Tur was not sufficiently familiar with it, and did not realize that it is commonly grown to be eaten as sugarcane. (R. Karo's view is approvingly cited by Magen Avraham, Orach Chaim 202:13.)

Again, it's not really any great chiddush that Rav Yosef Karo did not consider the Tur to know about the whole world. But in today's Orthodox Jewish society, it's certainly a chiddush to some people, and so it's very useful to be able to point it out.

(Thanks to Yeedle for his help with this post; he also pointed out to me that there are those, such as Ramban in Berachos 36b, who disagree with the Tur not only because sugarcane is edible, but also because they say sugar can't be rated as fruit.)