Discover more from Rationalist Judaism
Exploring the legacy of the rationalist Rishonim (medieval sages), and various other notes, by Rabbi Dr. Natan Slifkin, director of The Biblical Museum of Natural History in Beit Shemesh. The views are those of the author, not the institution.
Over 4,000 subscribers
Strange Obituaries
When someone revered as great talmid chacham passes away, a plethora of praise is naturally forthcoming. Given the tragic nature of the event, it is regarded as being in very poor taste for anyone to dispute the accolades heaped upon the person who has passed away. Unfortunately, this means that all kinds of fabrications are able to be passed along unchallenged.

Well, as a person directly involved, I think that I have a license to issue such corrections.

Here is a letter that I sent to Rabbi Yair Hoffman eighteen months ago, in response to his hesped for Rav Michel Yehuda Lefkowitz:

Dear Rabbi Hoffman,

I just read your hesped for Rav Michel Yehudah Lefkowitz at Vos Iz Neias. While I am sure that Rav Lefkowitz had many praiseworthy traits, I do not think that it is appropriate to praise someone in ways that are false - especially when their actions in these areas were the cause of harm to others.

You wrote about his "ehrlichkeit" and "unimpeccable (sic) honesty" and added that "he signed upon a number of Kol Korehs and always gave each of them the most profound reflection and thought." Well, I can attest that this is false. Rav Lefkowitz wrote a letter against my books (or signed a letter that someone had ghost-written) in which not only did he falsely claim that they contained kefirah, but he also claimed that those who wrote haskamos for the books had retracted them. Not only was this false, it was very easily proven false - all that he had to do was actually speak to the maskimim! I even sent a message to him before the letter was publicized notifying him of this falsehood, and his assistant told me that Rav Lefkovitz would investigate this and would remove this sentence if I was correct - but in fact he never spoke to any of them and the sentence stayed in even though it was not true.

Furthermore, when I spoke to his assistant in order to attempt to meet with Rav Lefkowitz to discuss his letter, his assistant reported back to me that he refused to meet with me. The assistant said that the reason for this, and I quote, was that Rav Lefkowitz did not actually read the books and did not really know what they were about. Instead, he was just relying on someone else, and so he did not want to meet with me, which would give the impression that he actually knew what it was all about.

Are these the actions of someone with ehrlichkeit? Are these the actions of someone who only signs Kol Korehs after giving them "the most profound reflection and thought"?

Incidentally, if you read Rav Nosson Kamenetzky's "Anatomy of a Ban," you will see that he reports similar shortcomings in Rav Lefkowitz's involvement with the ban on his books.

It would be better to restrict praise of the niftar to that which is true - surely there must be enough of it? - rather than to indulge in false praise that will force others to object.

Sincerely,
Natan Slifkin

This came to mind after this post at Garnel Ironheart's blog referred me to Jonathan Rosenblum's obituary for Rav Elyashiv. I'm sure that there is plenty of incontrovertible praise that could be given about Rav Elyashiv. Unfortunately, Rosenblum gives some praise that is very far from accurate:

Even after resigning, he remained ever a dayan in his conduct, refusing, for instance, to hear one party in a dispute unless the other party was also present. 
This is painful to read.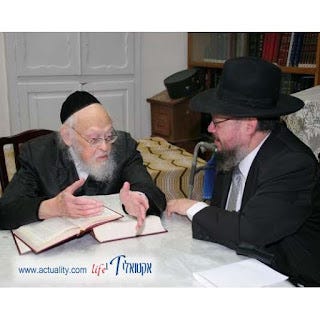 I can attest that Rav Elyashiv signed a ban on my books, and against my being permitted to teach, based on second- or third-hand testimony as to the books' contents, in a campaign issued by crooks and frauds such as Rabbi Leib Pinter and Rabbi Leib Tropper. Furthermore, as Rav Nosson Kamenetzky attests in Anatomy of a Ban, Rav Elyashiv took actions against his books based on the false testimony of askanim, without asking Rav Kamenetzky for clarification. In fact, having been told numerous stories from people who were affected by rulings issues by Rav Elyashiv, the most common complaint that I heard was that he issued rulings on personal matters without hearing both sides, and that his handlers made it very difficult for people to get in and have their side of the story heard. (See especially this post, about how Mishpachah claimed that Rav Elyashiv's ban against it couldn't possibly be authentic because he never heard their side! Needless to say, it was authentic.)

Are there not enough good things to say about these rabbanim, that people have to praise them with statements that are utterly false?