Discover more from Rationalist Judaism
Exploring the legacy of the rationalist Rishonim (medieval sages), and various other notes, by Rabbi Dr. Natan Slifkin, director of The Biblical Museum of Natural History in Beit Shemesh. The views are those of the author, not the institution.
Over 4,000 subscribers
Stories of Interest
There are several news stories unfolding right now that are of interest.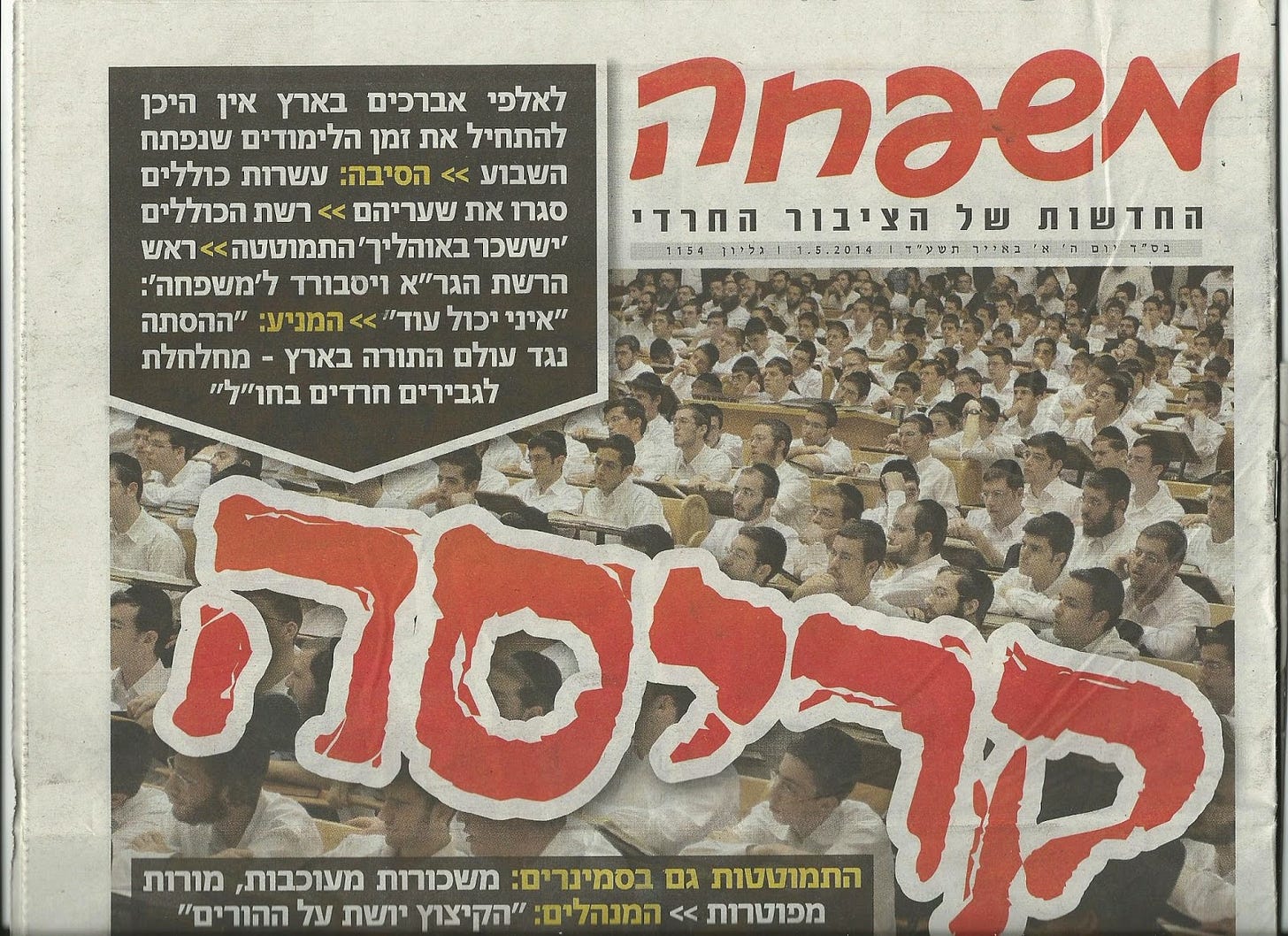 The Jewish Worker reports on how the Israeli Mishpachah newspaper has a banner headline screaming about the financial collapse of charedi kollel society. The newspaper states that the cause is rich American charedi donors having been negatively influenced by the incitement against charedim in Israel. That's odd, I thought that the cause was that charedim in kollel are not working. And why is there any blame to be attached to Americans? Could it not be that the Americans just don't see why they should be bailing out a society that is obviously unsustainable? What is Mishpachah's plan for a society with a very high rate of unemployment that is constantly increasing in size?

Meanwhile, here in Beit Shemesh, re-elected mayor Abutbul continues to disappoint. The municipality did not give its customary financial aid to the communal Ethiopian seders. There are allegations that this is due to the Ethiopians having strongly supported Abutbul's nemesis Eli Cohen. Instead, the Anglo dati-leumi community contributed most of the funds, and Rabbi Dov Lipman asked Yair Lapid if the Finance Ministry could make up the remainder. Lapid gave the money from his personal account! To quote Michael Lipkin in The Times of Israel: "So, just to spell out it out, when our mayor, the vanguard of Torah in Beit Shemesh, has the first opportunity of his new term to do something truly religiously significant he strikes out and abdicates this, small but important, task to the "devil" himself, Yair Lapid. You can't make this stuff up!"

There's another fiasco unfolding that involves our mayor. For the Yom Ha-Atzma'ut celebrations, the municipality invited (at a cost of 127,000 shekels) singer Eyal Golan. But Golan has been embroiled in a scandal involving charges of taking advantage of young girls. While the formal charges were dropped, there's enough residue, as well as acts to which he admitted, that make him a highly inappropriate choice. The dati-leumi rabbonim (but no charedi rabbonim) sent a joint letter of protest to the mayor, which he rejected, and none of the solidly charedi municipal coalition appears to oppose it. It's truly remarkable that the electoral campaigns of the mayor and these parties was based on the claim that only charedim would ensure the sanctity of the city.
On a more positive note, my neighbor Rabbi Karmi Gross has opened the first charedi hesder yeshivah, which combines yeshivah study with training in computers and serving in the IDF's Cyber Defense Unit. At the end of the four-year program, the graduates are not only accomplished yeshivah students; they have also served in the IDF for two years and have the training to get a good job. There's a Jerusalem Post article about it that is getting a lot of attention, but you can learn much more in an interview at WhereWhatWhen. A fascinating picture emerges from this interview: it's very hard for someone without secular education to be able to join this program, and so Rabbi Gross is recruiting mostly from one of the few charedi yeshivah high schools. Yet even though these schools are so beyond charedi norms that no charedi gadol will officially approve of them, Rabbi Gross himself is not allowed to enter the schools to recruit students, because they want their students to only take the yeshivah gedolah/ kollel path! I wish Rabbi Gross much success, but it looks like there's a long way to go...