Discover more from Rationalist Judaism
Exploring the legacy of the rationalist Rishonim (medieval sages), and various other notes, by Rabbi Dr. Natan Slifkin, director of The Biblical Museum of Natural History in Beit Shemesh. The views are those of the author, not the institution.
Over 4,000 subscribers
Some Reassuring News About Coronavirus
There are a number of reassuring items in the news that I would like to share. But first, some sad news; I was extremely upset to learn that my friend R. Tzvika Ryzman of Los Angeles has been hospitalized with severe coronavirus. Probably some of you have seen his fascinating emails/sefer "Ratz KaTzvi," and he also (naturally) dedicated the tzvi exhibit at the new Biblical Museum of Natural History. Wishing him, and all the other sick, a refuah shelemah.

I should also mention that sharing any good news about coronavirus does not mean that one should relax the restrictions. On the contrary; it's largely thanks to the restrictions that there is any good news to report. (And I wish to again clarify; in my first, very naive post on this topic, I predicted that the restrictions wouldn't last long. But I never said or meant that one should not observe them!)

So onto the reassuring news. First of all, all of us were horrified to learn that over ten thousand people have died from coronavirus in Italy. Well, it turns out that this is not true. Yes, over ten thousand people have died in Italy over the last few months, and they had coronavirus. But Italy has a population of over 60 million people, some of whom naturally suffer from various medical conditions, and many of whom are elderly. Due to the peculiarities of how Italy reports things, it was reported that they died of coronavirus even if there was a combination of factors involved, and even if just happens to be that they had coronavirus when they died of other causes.

Second: Israel is doing really, really well, from a health perspective. The mortality rate has been extremely low. The rate of new cases, rather than rising exponentially, is not rising at all! In fact, if you deduct the charedi population from the test results, the rate of new cases has actually been steadily dropping (I am mystified as to why this fact has not received more publicity). While the government is ramping up the restrictions on a regular basis, many of us are hoping that Bibi will recognize that it is time to differentiate between different sectors of the population. The government will hopefully place more effort in enforcing the restrictions on those sectors which disregard them (Litzman himself suggested quarantining the entire city of Bnei Brak), and it can soon start to relax them on other sectors of the population.

Third: There's lots of reassuring news about amazing technological innovations and logistical developments for fighting coronavirus. For those of you on Facebook, I have created a group called "Comforting News About Coronavirus." Join it at this link.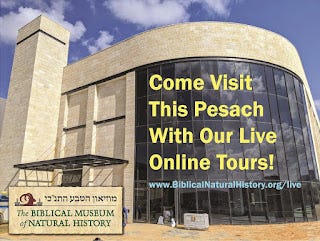 Fourth: Many people are wondering what they will do on Chol HaMoed Pesach if they are stuck at home. Don't worry, the Biblical Museum of Natural History has you covered! We are offering a number of live online tours over Chol HaMoed, including a six-part series that covers almost the entire museum in detail! You can learn more at www.BiblicalNaturalHistory.org/live. Please, please, spread the word, by sending this link to your community and friends!