Discover more from Rationalist Judaism
Exploring the legacy of the rationalist Rishonim (medieval sages), and various other notes, by Rabbi Dr. Natan Slifkin, director of The Biblical Museum of Natural History in Beit Shemesh. The views are those of the author, not the institution.
Over 4,000 subscribers
Snappers On A Plane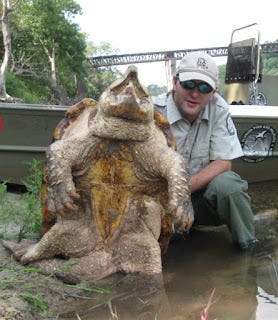 Yesterday, a man arriving at Ben Gurion airport was discovered to have all kinds of exotic reptiles hidden in his luggage. Aside from pythons and blue-tongued skinks, he also had several baby alligator snapping turtles. These can reach a weight of two hundred pounds and are lethal predators!
Such animals are not suitable for home ownership, and if they escape or are released into the wild can cause damage to the ecosystem. While these particular reptiles were returned to the country of origin, this is not always possible. The Nature and Parks Authority has brought several such confiscated creatures to the museum in the past, including a snapper turtle, where they are housed safely and will never be released into the wild.

Invasive species are a problem. The most commonly seen bird in Israel (aside perhaps from the pigeon) is the mynah - which is from India. The next most commonly seen bird is the raucous ringneck parakeet, also from India. These birds escaped from pet stores and became established in the wild in Israel, displacing native species.

While the animal world of the Bible is the animal life of Biblical lands, unfortunately it is not the animal life of Israel today. Many Biblical animals have disappeared from the region, including hippos, lions, and bears. But many foreign animals are now common. And removing invasive species is generally impossible.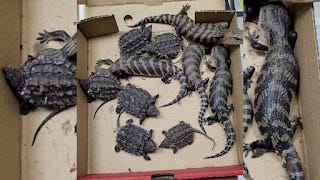 Some animal-loving immigrants to Israel get frustrated that they can't buy the pets that they were able to buy in the UK and US. But there are good reasons for it. Israel is a small and delicate ecosystem, and the Nature & Parks Authority has the difficult task of preserving it as best as possible. 
Alas, the Biblical animal landscape will never return. But you can see what it used to look like by visiting the Biblical Museum of Natural History! We are already taking bookings for Pesach tours (which are bound to sell out!)
(If you'd like to subscribe to this blog via email, use the form on the right of the page, or send me an email and I will add you.)