Discover more from Rationalist Judaism
Exploring the legacy of the rationalist Rishonim (medieval sages), and various other notes, by Rabbi Dr. Natan Slifkin, director of The Biblical Museum of Natural History in Beit Shemesh. The views are those of the author, not the institution.
Over 4,000 subscribers
Snakes Alive!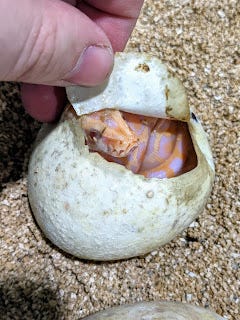 It's been a momentous time at the Biblical Museum of Natural History. Our most prominent live exhibits are undoubtedly our enormous Burmese pythons, Cuddles and Shayna. Two months ago, Shayna delighted us by laying 38 huge eggs. We removed them for incubation, and this week they started to hatch! 
It's truly incredible to follow the process. We had slit open some of the eggs last week to check on their development (it doesn't harm them at all), and we could see the embryos moving around. Some of them popped out this week through the slits that we had made, but the ones in the eggs that we hadn't touched made their own way out. Using a tiny "egg tooth" on their snout, they would make a number of slits in the leathery shell. Then they would poke their heads out for a while, and withdraw back in for a while. Finally, they would emerge completely, measuring a little under two feet in length.
Such an event calls for a celebration. And so this Friday we are hosting a kiddush! See the details below. Im yirtze Hashem by you!