Discover more from Rationalist Judaism
Exploring the legacy of the rationalist Rishonim (medieval sages), and various other notes, by Rabbi Dr. Natan Slifkin, director of The Biblical Museum of Natural History in Beit Shemesh. The views are those of the author, not the institution.
Over 4,000 subscribers
Sinat Chinam and Israeli Politics
It may seem strange that the Sages named sinat chinam, "baseless hatred," as the explanation for the destruction of the Second Beit HaMikdash. It relates to the story in which Bar Kamtza was mistakenly invited to a feast instead of Kamtza, and was thrown out when the mistake was realized. Bar Kamtza was so enraged against the community and its rabbis that he devised a plot to make Caesar believe that the Jews were revolting and would attack them. But the hatred there was not baseless at all. Bar Kamtza was forcibly removed from the party, undergoing great personal embarrassment, and had good reason to hate all those who were present and did not object!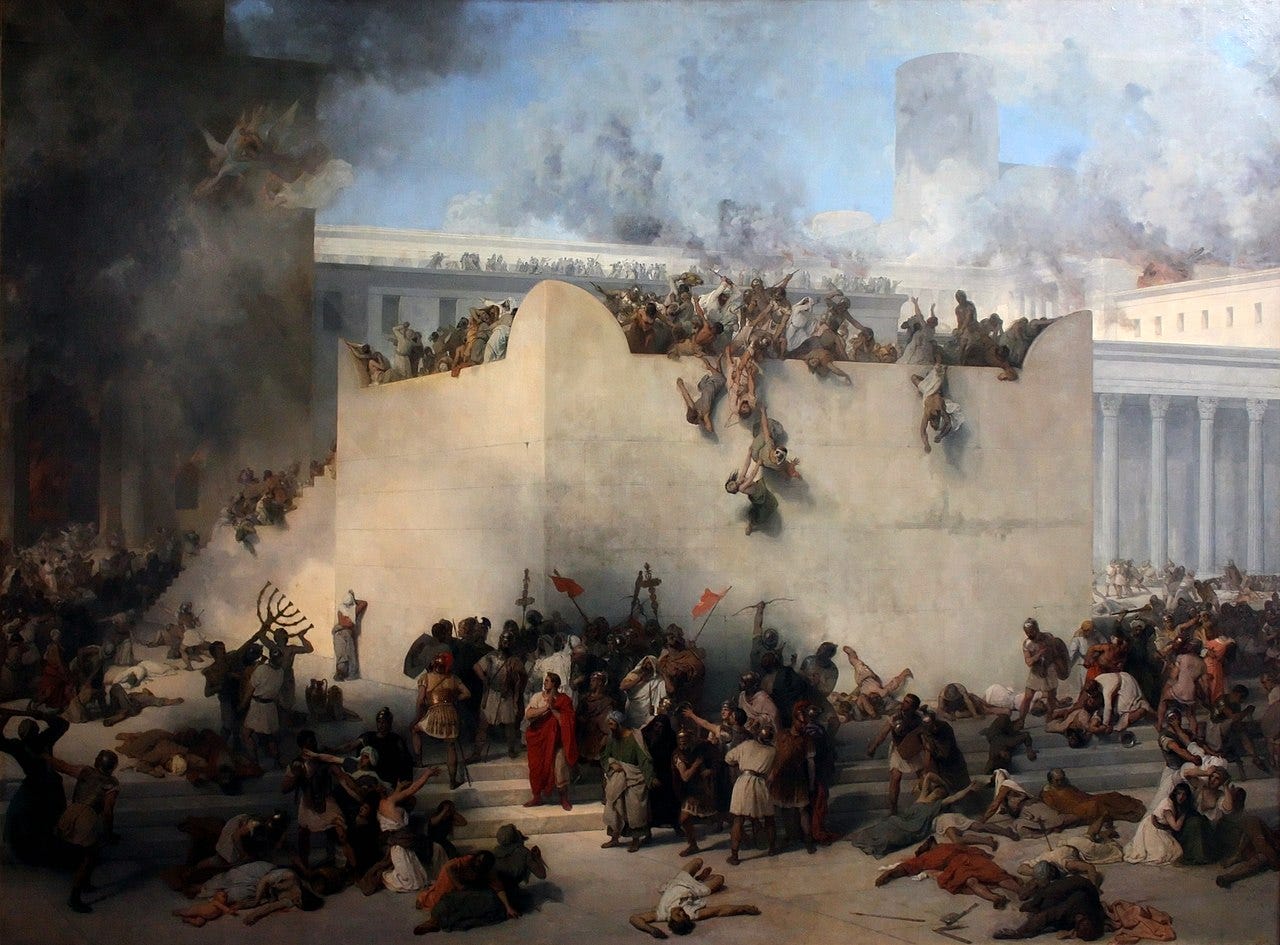 In fact, this is a general problem with the liberal use of the term sinat chinam to castigate people. The people being castigated always respond that it's not baseless hatred, they have good reason for opposing others. And they may well be correct!
I've been bothered by this question for a while, but now I finally have an understanding of it. It's an answer which fortunately/ unfortunately puts me in the perfect frame of mind for the Three Weeks. And it's thanks to the actions of various Israeli politicians this week.
For those who don't know, the Family Reunification Law (also known as the Citizenship Law) was created by the Likud itself back in 2002. It blocks Palestinians who marry Israeli Arabs from receiving Israeli citizenship. The reason for it is that the offspring of Palestinians who acquired Israeli citizenship constitute about 15% of those involved in terrorism among Israeli Arabs - three times more than their relative share of the population. The law has to be renewed every year, and the current vote on renewing the law was submitted three months ago by none other than the Netanyahu government, which was still in power.

Now, although the Likud, Religious Zionist party and charedi parties are no longer in power, one would expect that they would still support this law (or at least not actively oppose it), since they themselves instituted it for reasons of national security. But because they lost power, they instead opposed the law, so as to try to undermine the Bennett/Lapid government!
This is so shocking to grasp that it is worthwhile spelling it out clearly. The Likud and its affiliates actively worked to do what they believe would harm national security!

The various justifications that they offered for this have ranged from the irrelevant to the insane. They said that they have a much better law to propose - but this one was perfectly adequate for them until now, and their stronger version wouldn't have been able to pass. They said that a government which cannot pass its own national security laws is not fit to be a government - but this is not a reason for the Likud and co. to oppose the interests of national security. They said that they need to topple the government - but the government did not topple as a result of their actions. They said that they need to expose the danger of the Bennett/Lapid government - but they themselves are the ones that created this danger! They said "Don't expect us to save you from the mess that you made with this coalition" - but nobody is expecting them to "save" the Bennett-Lapid coalition, they are expecting them not to vote against the interests of national security.
In short, they did something which according to their own beliefs, harms national security. It had no benefit other than giving them an opportunity to "stick it" to Naftali Bennett. But that was a sufficiently delicious prize for them, so that they could cheer afterwards - along with Achmad Tibi and other Arab haters of Israel who couldn't believe their good fortune.

This is what happened with Bar Kamtza. He even had very good reasons to hate the community which stood by and allowed him to be shamed. But he had nothing to gain by riling up the Romans against them. Bar Kamtza himself also surely suffered, and was possibly killed, when the Romans attacked. But he didn't care about that; he was so blinded by his hatred that he was willing to cause harm to his own interests, as long as he was able to harm those that he hated. 
This was the sinat chinam that destroyed the Bet HaMikdash. The extent of the infighting among the Jewish people that took place was unbelievable. The various factions of Jews were so intent on scoring points over each other that they were willing to harm their own national cause in order to do so. The factions fought vigorously over the control of Jerusalem, trying to destroy each other's grain stores in order to starve each other into submission. By the time that the Romans finally attacked, the Jews had already lost all their food reserves and had been severely weakened. The Jews did the Romans' job for them!

Sinat chinam does not mean "baseless hatred." The "nothing" which is the translation of the word chinam does not refer to a lack of cause for the hatred. It refers to a lack of gain for it. It's hatred which is so severe that it is exercised even when it gains nothing. Sinat chinam is when it's so important to score points over the other side that you do so even at cost to your own cause. 
Sinat chinam demonstrates that tribalism has taken hold out of all proportion. It's a problem which has become exacerbated over the last few years. This week, we saw one negative result. Let us hope that people have the sense to rein themselves in before the consequences become any more dire.
If you'd like to subscribe to this blog via email, use the form on the right of the page, or send me an email and I will add you.