Discover more from Rationalist Judaism
Exploring the legacy of the rationalist Rishonim (medieval sages), and various other notes, by Rabbi Dr. Natan Slifkin, director of The Biblical Museum of Natural History in Beit Shemesh. The views are those of the author, not the institution.
Over 4,000 subscribers
Shocking Development in Alleged Abuse Ring Conspiracy
There is an extraordinary development in the case, going on for several years already, of the alleged missionary pedophile ring in Jerusalem. It broke yesterday afternoon, just hours after I had a fascinating conversation with a prominent rabbinic figure about it.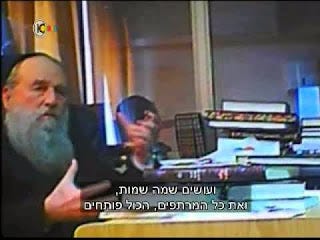 Last year I posted the video in which Rav Moshe Shapiro tells his followers that the 70-year-old woman who was allegedly the mastermind of the ring should be beaten to the point of hospitalization or beyond, because the police are useless, and her house should be ransacked (to find the dungeon). His followers did so, breaking her arms and legs with metal bars, but did not find any evidence of the dungeon. They were then caught by the police, and Rav Moshe was indicted. His defense claimed that he was only offering sympathy to his followers, not telling them to actually beat her to death. Rav Moshe had subsequently put out a letter condemning those who beat her up, and disavowing all responsibility for it.

I couldn't understand is how Rav Moshe could simultaneously try to absolve himself of all responsibility and let his disciple take all the blame. The rabbi that I met with yesterday agreed with me on that point, but he opined that ordering the vigilante action was not necessarily wrong. He told me that, according to the information that reached him, the elderly woman was indeed involved in terrible actions with children. I agreed that there isn't necessarily a problem with a child abuser being stopped in such a way - if they are indeed guilty, and if there is indeed no other way to stop them.

However, in two superb articles in Tablet magazine, Menachem Kaiser had argued that the whole thing was not credible, just like the stories from the 1980s about satanic abuse cults. While there are certainly pedophiles in Jerusalem, the notion of a secret cultic ring is the result of mass hysteria. It is true that many highly intelligent people in Jerusalem - not just Rav Moshe Shapiro, but other prestigious and more humble and cool-headed figures - were convinced that the ring was real. Yet experts with training in this field disagreed.

The bombshell came yesterday afternoon. The Israel Police announced that after a lengthy investigation, they had discovered that the "secret abuse ring" was fabricated by three people as a way to make money. They had conspired to spread rumors of a terrible threat in order to solicit funds for an organization to fight this fictitious threat. There was indeed a conspiracy - but not the one that people had feared. (News article in English here - more extensive article in Hebrew here.) It's wonderful news for the thousands of people in Jerusalem who were terrified about this ring (though many of them doubtless maintain that these arrests are all part of the conspiracy). But it's tragic that the trail of carnage caused a woman to be beaten near to death, a suspect to commit suicide, and who knows what else.

What is the lesson to take from this story? I think one lesson to take is that there is a reason why we have a justice system. No, the system is not perfect, indeed it is far from perfect. But nor are decisions taken by individuals, no matter how brilliant they are. There's no replacement for a systematic investigation, which includes consultation with experts in the field. It's just as Winston Churchill said about democracy - "Democracy is the worst form of government, except for all the others."