Discover more from Rationalist Judaism
Exploring the legacy of the rationalist Rishonim (medieval sages), and various other notes, by Rabbi Dr. Natan Slifkin, director of The Biblical Museum of Natural History in Beit Shemesh. The views are those of the author, not the institution.
Over 4,000 subscribers
Shemini LIVE!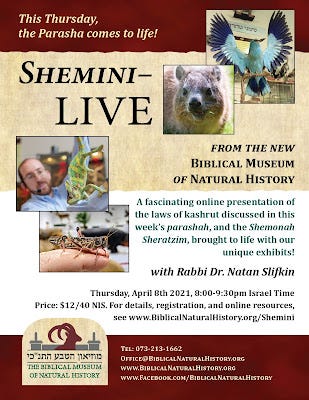 I am pleased to announce that this Thursday, in honor of parashat Shemini, we will be running a special live online presentation from the Hall of Kashrut and the Hall of Small Animals at the NEW Biblical Museum of Natural History! You can sign up at https://www.biblicalnaturalhistory.org/product/shemini-live-at-the-biblical-museum-of-natural-history/   Please spread the word!
(By the way - the previous post, about the brachiosaurus on top of the museum, was an April Fool's Day joke. And the behemoth of the Bible is not a brachiosaurus; it's a hippopotamus, as discussed in my books Sacred Monsters and in The Torah Encyclopedia of the Animal Kingdom!)