Discover more from Rationalist Judaism
Exploring the legacy of the rationalist Rishonim (medieval sages), and various other notes, by Rabbi Dr. Natan Slifkin, director of The Biblical Museum of Natural History in Beit Shemesh. The views are those of the author, not the institution.
Over 4,000 subscribers
Rubashkin: The Good, The Bad And The Ugly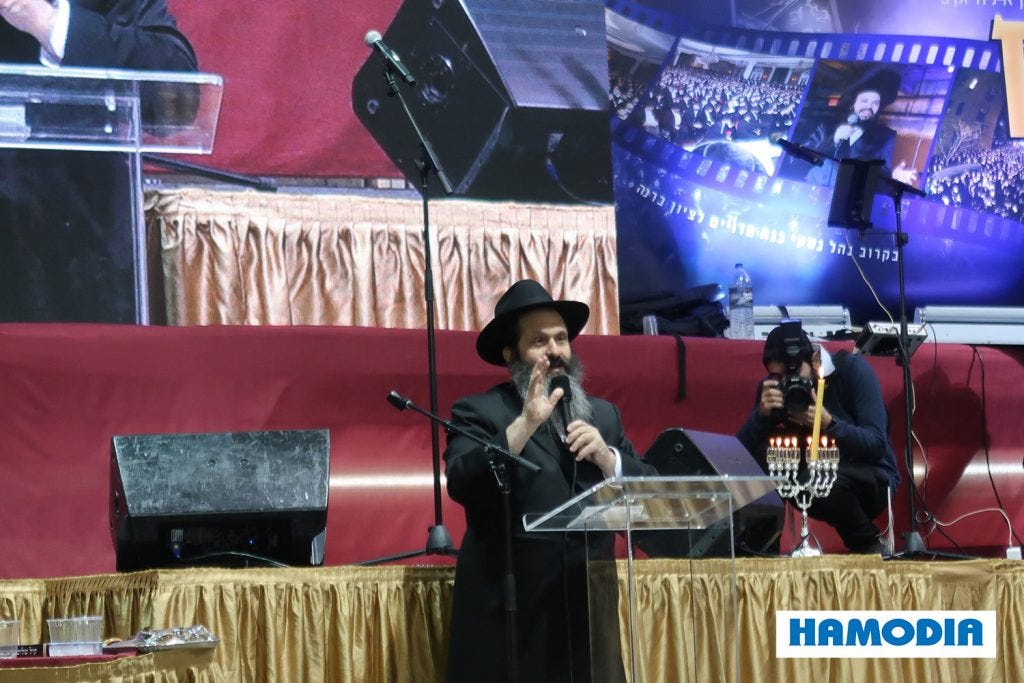 Before getting to the main point of this post, I want to make something clear. I'm not personally condemning Rubashkin for his financial shenanigans. After reading the account of the story in the fascinating book Kosher USA, it's hard not to be sympathetic. "Do not judge a man until you are in his place." It's very, very difficult to run a profitable kosher slaughter business, since the costs are so much higher and a large proportion of the meat cannot even be sold to the kosher market. Imagine inheriting a huge but failing family business, with cattle prices continuing to rise. There was undoubtedly enormous temptation to go to any lengths to stop the business from falling apart. And thus he engaged in unethical practices against other Jewish meat suppliers; he reversed the more compassionate (but less efficient) methods of animal processing that had been agreed upon; he hired illegal labor with inadequate conditions (resulting in five amputations along with dozens of other serious injuries); and he falsified documents in order to keep things afloat.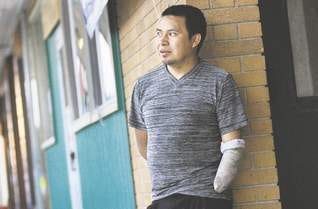 In addition, it's not hard to understand why Rubashkin wouldn't have seen all this as a big deal. The fact is that, as Rabbi Nisson Wolpin z"l told me over twenty years ago, the charedi community has long had relatively little regard for civil law. The reason is partly due to its isolationism (not identifying with the laws of the country as being "their" laws), and partly due to a cultural hangover from eras where the government really was the enemy. This unfortunate phenomenon is especially pronounced in chassidic communities, and even more so in the Rubashkin family, which has a history of breaking laws.

So, Rubashkin's upbringing and situation set the stage for his crimes. And he suffered plenty for them. The protests being uttered by myself and countless other people are not about targeting him for further recrimination. Rather, what we are protesting is the elevation of Rubashkin to hero status. He's done his time; let him now fade into anonymity, not be paraded as a celebrity. To quote Rav Hershel Schachter:

"It's scandalous - the man is a criminal. The OU warned him for years to straighten up his act and he didn't listen. He came out of prison and he was drunk on the videos. They're turning him into the next Lubavitcher rebbe! The trial was unfair and he didn't need to be in prison for so long, but he should have been quiet about it." 

Rubashkin is a person who did not care about the law. He, and his employees, said this to people explicitly. He did not care if other people suffered due to his business practices. And he did not place his bitachon in Hashem to assist with his business problems - instead, he signed false documents and broke the law. He should not be paraded as a source of inspiration.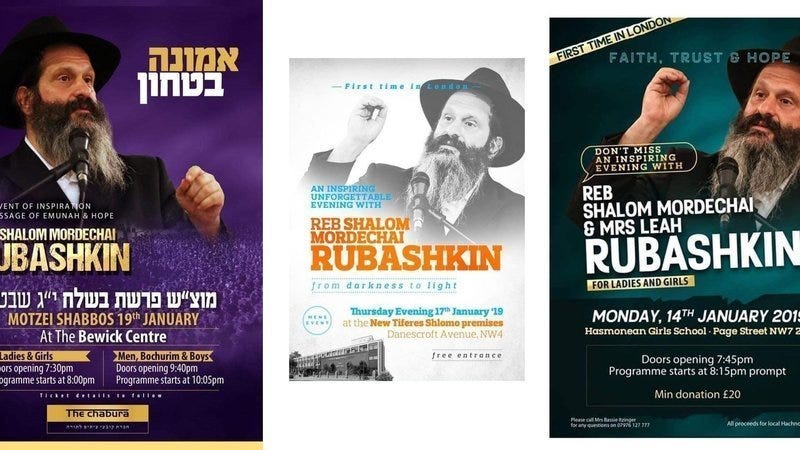 According to Levi Shapiro, director of the Jewish Community Council in Stamford Hill, the message of Shalom Rubashkin in his forthcoming visit to London "is to be law-abiding business people, to learn from your mistakes, to be true contributors to society, and to make the most of second chances." Ha! If only! He's never, ever given over this message. Rubashkin never speaks about having done anything wrong or about the need to be law-abiding. His message is only about his heroic ability to trust in Hashem to help him with his plight - never about his mistakes and wrongdoings that got him there in the first place.

The good news is that many people recognize this. There is also an online petition to oppose his forthcoming celebrity tour of London. And the school in London which had been rented as a venue for one of his speeches has cancelled the booking.

Alas, however, there are many other people who do not recognize this. I'm not just talking about people who don't grasp the impropriety of having an unrepentant criminal give inspirational talks about bitachon and the miracles that he experienced as a result. I'm talking about people who genuinely do not seem to recognize that what he did was wrong.

Some of the comments to my previous posts and Facebook discussions were disturbing, even frightening. One anonymous commentator on my blog wrote as follows:

it's not dishonest if the customer is aware that the weights are off. in this case the bank was aware of the inflated receivables, and was happy to lend the money. this is actually a common practice, a lender wants to lend money when it is profitable to do so, and it seems secure, they don't care about the collateral. but they can't have the loans on their books without the collateral, so they cooperate with the client to inflate the value of the collateral for the sake of the "books". there are hundreds of banks that were doing this with home mortgages, which was a contributing factor to the recent mortgage crisis (circa 2008). prosecutions for this type of activity are not unheard of, but they are rare.
This person doesn't appreciate that lying is wrong, period, even if the bank would agree to it. Furthermore, the laws of providing collateral do not only exist for the benefit of the decision-makers in the banks - they exist to protect the shareholders and everyone associated with the bank, and the general public. Yes, it works fine as long as the money is coming in, but you can never be sure that it always will come in. Obeying the laws and being honest is important precisely to prevent the sort of financial crisis that occurred in 2008.

One Chabad rabbi, David Sterne, challenged me to demonstrate a single Torah wrongdoing that Rubashkin did. I didn't want to start getting into all the nitty-gritty of the offenses, so I decided to present something very simple and undeniable: the fact that he made false financial statements, and thereby contravened Midvar sheker tirchak. To my surprise, Rabbi Sterne replied that if it's not codified as law in the Shulchan Aruch, then contravening midvar sheker tirchak is not a problem! This sounds too shocking to believe, and he might deny it, so I took screenshots of the argument (click to enlarge):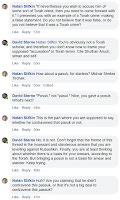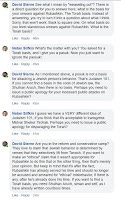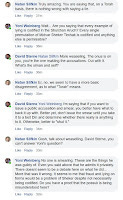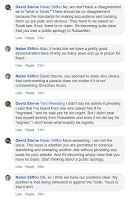 How can a rabbi, involved in Jewish education, insist that lying (on a financial matter!) is not necessarily wrong?! (Yes, I am aware that on occasions one must resort to lying in order to achieve more important goals; Nosson Slifkin once wrote a book about it. This is not one of those cases.)

The ultra-Orthodox Jewish community has a problem in its disregard for civil law. The Rubashkin circus is both a manifestation of this and an encouragement of it. Everyone who cares about genuine Torah values, as well as the long-term situation of Jews living among non-Jews, should be protesting.