Discover more from Rationalist Judaism
Exploring the legacy of the rationalist Rishonim (medieval sages), and various other notes, by Rabbi Dr. Natan Slifkin, director of The Biblical Museum of Natural History in Beit Shemesh. The views are those of the author, not the institution.
Over 4,000 subscribers
Robot Rabbis?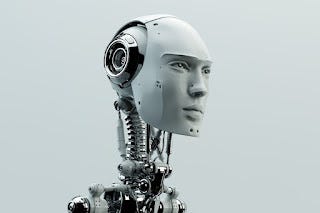 Several years ago, I was engaged in a debate with someone about the philosophical beliefs of a certain great historical rabbinic figure. As the debate progressed, I realized that it was futile, because I discovered that my disputant firmly believed that if this great figure had the beliefs that I ascribed to him, then he would be outside the pale of Jewish thought and could not even merit the World-to-Come - which was clearly inconceivable. I pointed out to my disputant that this premise meant that he was fundamentally biased and incapable of accepting or objectively evaluating my arguments. To my amazement, he responded that he could "categorically state" that he has "no tendency that prevents an unprejudiced consideration of this question"! Even more fantastically, he further insisted that he did not even have a bias towards his own previously stated position! So, not only was my opponent fatally biased, but he could not even accept that he had any bias at all, even those that all human beings have!

I was reminded of this upon reading a recent Jewish Press interview with Rabbi J. David Bleich upon the release of the seventh volume of his Contemporary Halachic Problems (which I previously critiqued with regard to his denial of scientific errors in the Talmud and his view on Rambam's attitude to magic). Part of the interview goes as follows:

This is your seventh volume of Contemporary Halakhic Problems. Has there been any change over the years in how you approach halachic questions? 
How could there be? The halacha is the same and the methods of dealing with it are the same.
Have you perhaps become more machmir or more meikil over time? 
Heaven forfend. I don't know what those words mean. There is no such thing as a machmir and a meikil. Anyone who talks in that language is not a posek. There is a halacha and there is an assessment of pros and cons and different positions and then you apply it in a concrete situation. Sometimes the ruling is more stringent, sometimes it's less stringent. But the categories of machmir and meikil are extra-halachic. These words shouldn't even be bandied about.
Rabbi Bleich apparently views ideal poskim in general, and himself in particular, as being nothing other than machines, coldly evaluating the sources and issuing a pesak, with no human component. Hence, it is not possible to ever develop new perspectives that change one's approach, or to have tendencies towards stringency or leniency. Furthermore, he considers it utterly unthinkable to propose otherwise.

Now, this could be challenged with many historical counter-examples. But aside from that, consider the innate problems with it.  Poskim undeniably have different views on things, reflecting differences in their nature and/or nurture. Why would it be impossible for one type of person to change into a different type of person?

Rabbi Bleich's view of himself, as some sort of super-human whose approach could never change, seems very strange. But it is entirely consistent with his reputation for reacting very strongly whenever someone corrects him on an error. It is also consistent with his position that Chazal were immune from issuing rulings based upon scientific error; after all, if he is superhuman, then kal v'chomer Chazal were!