Discover more from Rationalist Judaism
Exploring the legacy of the rationalist Rishonim (medieval sages), and various other notes, by Rabbi Dr. Natan Slifkin, director of The Biblical Museum of Natural History in Beit Shemesh. The views are those of the author, not the institution.
Over 4,000 subscribers
Riverboat Safari
I had planned my tour group to finish with a riverboat safari on the Chobe river in Botswana. It's the most wonderful experience. There are fish eagles, spoonbills, yellow-billed storks, crocodiles, buffalo, impala, waterbuck, and lots of hippopotami: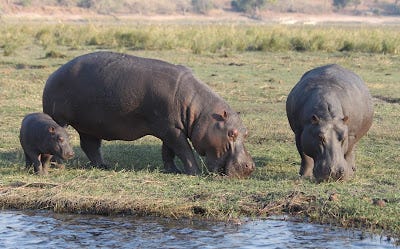 There are also an enormous number of elephants. Previously, I've seen them swimming in the river; this time, they were just grazing by the river's edge. We stopped just a few yards from where one was deconstructing a tree.

"If that elephant jumps, your career is ruined!" commented one person. (At each meal, as well as during the bus rides, I speak about various animals in the Torah. Last night's topic was the famous/ infamous "jumping elephant" topic.)

We also went on game drives, in which the highlights were a lioness, and one of the most formidable animals in Africa: a honey badger.

There's so much more to tell about the people, places and animals that I saw during my trip, but it's time to get back to Rationalist Judaism, so this is the end of my Africa posts. Right now I am in JFK airport, waiting to fly out to LA, having passed through Botswana, Zambia and South Africa since I got out of bed 34 hours ago! In LA, I'll be speaking at Young Israel of North Beverly Hills, Sephardic Synagogue, and Beth Jacob.

The "Zoo Torah"/ "Torah in Motion" Africa trip was a tremendous success. The trip sold out, and we plan to run it again next summer. If you'd like to join, please write to me.