Discover more from Rationalist Judaism
Exploring the legacy of the rationalist Rishonim (medieval sages), and various other notes, by Rabbi Dr. Natan Slifkin, director of The Biblical Museum of Natural History in Beit Shemesh. The views are those of the author, not the institution.
Over 4,000 subscribers
Revolutions in Jewish Intellectual History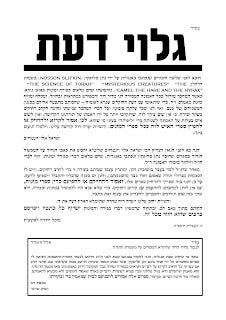 Yesterday was the ninth anniversary of the day that I received a phone call from Bnei Brak, telling me that I had until the end of the day to retract my books and publicly apologize, or face scandal and humiliation. (If you were living on a different planet in 2004/5, you can read all about the ban at this link.) I picked the second option. It was very painful, though less so in the long run than the first option would have been. 

One of the most significant and passionate of my opponents was Rav Moshe Shapiro. He presented himself as following in the path of Maharal. But a certain rav, to whom I am close, and who is an aficionado of Maharal, felt that Rav Shapiro was not portraying Maharal's position correctly.

After several years of study and contemplation, I had to disagree. I felt that Rav Shapiro was perfectly following Maharal's approach. But this did not make his opposition to my work justified. Maharal himself was a revolutionary, who went entirely against the approach of all the Rishonim (and of Chazal). It was truly ironic that such a revolutionary figure was being used to condemn the "heresy" of an approach that has a much more authentic lineage!

Rabbi Chaim Eisen began the process of documenting Maharal's revolutionary approach in a seminal article in the journal Hakirah (freely available here). But I feel that Rabbi Eisen's article did not cover some crucial aspects of the way in which Maharal's approach was innovative. I have documented these in a paper entitled "Maharal's Multiple Revolutions in Aggadic Scholarship," which you can download at this link. If you feel that you benefit from it, and/or from this blog in general, please make a donation to the Torah and Nature Foundation, which is the fund for The Biblical Museum of Natural History. You can donate with either a credit card or PayPal account by clicking on the button below. Thank you for your support!