Discover more from Rationalist Judaism
Exploring the legacy of the rationalist Rishonim (medieval sages), and various other notes, by Rabbi Dr. Natan Slifkin, director of The Biblical Museum of Natural History in Beit Shemesh. The views are those of the author, not the institution.
Over 4,000 subscribers
Rav Sternbuch Clarifies... Or Does He?
Rav Moshe Sternbuch, head of the Bedatz - Eidah Charedis, is an interesting figure. On the one hand, during the controversy over my books, he condemned any attempt to reconcile Bereishis with science. On the other hand, he openly voiced his endorsement of Rabbi Nosson Kamenetzky's banned book Making Of A Godol.

The "Silver Segulah Ring" advertisement, that we discussed yesterday, cited Rav Sternbuch as endorsing it. But in this week's Mishpachah, Rav Sternbuch clarifies his stance (courtesy of the Daas Torah blog):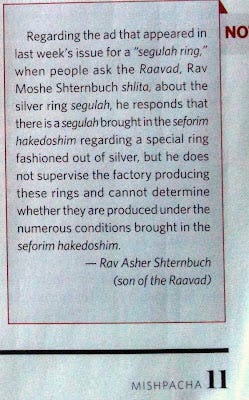 But what does this actually mean? There are several possibilities.

It superficially appears to mean that he firmly believes that the true silver segulah ring works, but he has not ascertained if this is the real McCoy.

But it could be that he doesn't believe in such segulos, yet of course cannot say so in public, and so this is how he avoids endorsing it.

Alternatively, it could be something in the middle - he does believe that segulos work, but is uncomfortable with the excesses of the silver-segulah-ring advertisement, and wants to disassociate from it.

I have no idea which of these is what he meant.