Rav Chaim Kanievsky and the Grasshopper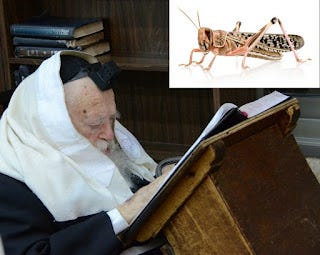 In the aftermath of the passing of Rav Chaim Kanievsky, there are all kinds of things happening. Some are noble, such as people being inspired by his selfless utter dedication to his learning. Some are disturbing, such as organizations seeking donations by marketing dubious supernatural claims made in his name "just before he died!" And some are not especially helpful nor harmful, but are very interesting.
One particular Rav Chaim legend making a resurgence is the famous grasshopper miracle story. Rav Chaim was learning the Gemara about identifying kosher locusts (the swarming varieties of grasshoppers). He was struggling to understand certain aspects of the Gemara's discussion. Just then, a grasshopper miraculously jumped through the window and landed on the Gemara! By looking at it, he was able to resolve the difficulties in understanding the Gemara's discussion.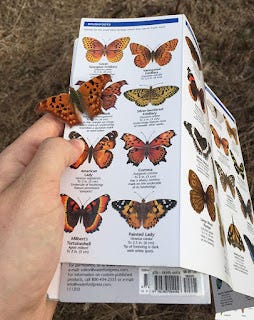 This story is sometimes told with even more remarkable aspects. There's a version in which after studying and releasing it, he realized that he needed to study the hind legs a bit more, but the grasshopper was long gone. But then a second grasshopper hopped in and on to his Gemara, giving him the ability to study its hind legs in detail. 
And then there are the sequels, in which people who discount the story themselves experience the same thing, in some cases even being punished by a plague of grasshoppers in their home. Rabbi Josh Waxman has an excellent discussion of the problematic messaging that people shouldn't be skeptical about miracle stories. (The story is printed in a certain sefer, about which Reb Yankel Galinsky is said to have quipped "I would say I don't believe it, but I am scared a plague of that sefer will occupy my house.")
But meanwhile, this week someone released a video in which he asked Rav Chaim if the basic story is true - and Rav Chaim confirms it! It's presented as an incredible confirmation of a miracle. Now, some people will say that the video shows a very, very old man who is not necessarily actually remembering what happened or even describing it in detail. But personally I have no problem believing it. And I'll tell you why.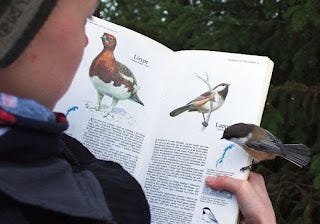 Many years ago I was giving a Shabbos morning presentation about animals of the Torah at the enormous Boca Raton Synagogue. One of the examples that I like to discuss is the verse in Mishlei: "The gecko grasps with its hands, and is in king's palaces." It's about how geckos have an amazing ability to climb up  walls (which is accomplished through their incredible toe structure that uses molecular forces) and can thereby survive even in palaces, which have a cleaning staff that is dedicated to getting rid of such things. And lo and behold, I noticed that high up in the palatial shul, there was a gecko on the wall!
Here's another one. While I was finishing writing The Torah Encyclopedia of the Animal Kingdom, I was stuck with a problem. The verses about lions attacking all speak about a solitary male lion lying in ambush. But, as everyone knows, that's not how lion attacks happen. It's the lionesses which do the hunting, in groups of lionesses which chase down their prey in a coordinated attack. I was sitting in front of my computer, struggling with this, and eventually decided to take a break and switch to reading the science news. Lo and behold, there was a story about a new study which revealed that it's only in the African savanna that lions hunt in such a way, whereas in dense forests (such as used to exist in Israel) it's the males that hunt via ambush!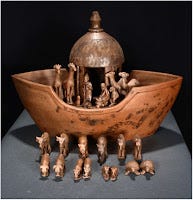 Here's a third. Right now we are accumulating a collection of biblical and artistic model Noah's Arks for a new exhibit at the Biblical Museum of Natural History. One part of the exhibit is about arks from around the world which show local wildlife of that region, such as the African ark pictured here (revealing how people relate to the animal kingdom in terms of the local animals with which they are familiar). Yesterday, our director of PR announced to an interested party that the collection includes an ark from Australia with Australian fauna. I winced, because despite enormous effort, we had not been able to find such a thing. But lo and behold, just a few minutes ago as I started writing this post, I received a message from a friend in Australia with a picture of just such an ark that they had come across!

And so, if people are claiming that the grasshopper story is evidence of Rav Chaim's unique supernatural status, that's fine with me. Because it also means that I have unique supernatural status! Joking aside, I think it's clear that even if the grasshopper story is true, it is not especially significant. It could be simply a coincidence, or a fortuitous providential event that can happen even to someone like me.

But there is something in the video about Rav Chaim and the grasshopper which shows the true nature of his greatness.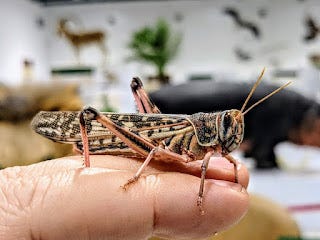 The average rabbi, even the average very very learned rabbi, will tell you point-blank that Ashkenazim can't eat locusts. After all, the Mishnah cites R. Yosi that a tradition is required as to which type may be eaten. The Yemenites and Moroccans have such a tradition to eat the migratory and desert locust (pictured here at the museum), but the Ashkenaz tradition is that we don't know which are kosher and therefore you absolutely cannot eat them. And there were authorities such as the Ohr HaChaim who spoke very harshly against it, which makes people especially nervous.
But Rav Chaim says otherwise. In the video, he says that it's a matter of dispute. And what he means is that there's a legitimate position that there is no Ashkenazi tradition of not eating locusts; rather, Ashkenazim simply weren't familiar with locusts, which don't live in that part of the world. As with the model Noah's Arks, people are generally only familiar with animals from their part of the world. According to this view, it's perfectly legitimate to accept the tradition from those who do have it, just as a community lacking a tradition regarding the kashrut of a certain bird is perfectly entitled to accept the tradition from a community that does have it.

In Rav Chaim's extensive monograph on this topic he has a remarkable insight which gives a further reason to permit locusts. Even according to the view that R. Yosi requires there to be a tradition, it is not described as a tradition that a particular type is kosher, and it is also not referring to a tradition that it has a specific Hebrew name. Rather, it is referring to a tradition that this insect falls into the general category that is named chagav (which includes the four types mentioned in the Torah, explained by Chazal to include four further types), based on its overall appearance. 
What does this mean? It means that the required tradition is just that this creature is in the general category of locust, rather than being a cricket or one of the many unusual varieties of grasshopper. Which is the case with the grasshoppers that are eaten by Yemenites and Moroccans.
This is the greatness of Rav Chaim. Not an embellished and insignificant story about a grasshopper entering his home. But rather, his incredible mastery of Torah, and his honest approach to it. How many people who are not directors of Biblical Museums of Natural History have studied so much of Torah that they have even covered this arcane zoological topic in detail and have rich insights into it? And how many people are honest and brave enough to describe the halachic situation as it really is, instead of according to the highly conservative frum way?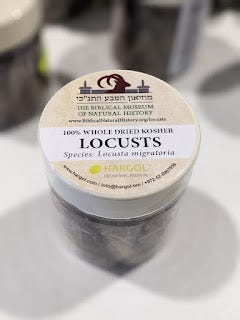 Meanwhile, you can see live examples of both species of kosher locusts at The Biblical Museum of Natural History, along with sundry exhibits such as our Locust-o-matic™ machine for preparing them for consumption. And if you're comfortable following the view that locusts are kosher, you can buy them at our gift store or purchase them online from our website. Actually, they make a great conversation piece for the Seder table, even if you don't eat them! (If you are a museum patron, you will be receiving a complimentary jar of locusts in the mail next week.) You can also read more about their kosher status on our Knowledge Base at this link. 
And here's something incredible. This video of Rav Chaim surfaced this week - and the laws of kosher locusts are mentioned in this week's parasha!
It's a miracle.
(If you'd like to subscribe to this blog via email, use the form on the right of the page, or send me an email and I will add you.)