Discover more from Rationalist Judaism
Exploring the legacy of the rationalist Rishonim (medieval sages), and various other notes, by Rabbi Dr. Natan Slifkin, director of The Biblical Museum of Natural History in Beit Shemesh. The views are those of the author, not the institution.
Over 4,000 subscribers
Rambam or Maimonides?
Good news: I have finished the first draft of my book Rationalism vs. Mysticism: Schisms in Traditional Jewish Thought. Due to its length and nature, it looks like it will have to be published in two volumes. Part One is a general review of the entire topic. Part Two is a collection of my monographs which take some of the individual sub-topics and analyze them in great detail. Here's the outline contents: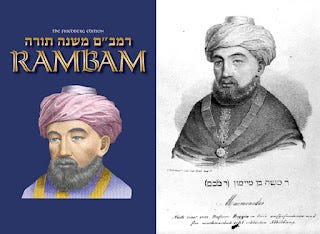 Volume One—An Overview of Rationalism vs. Mysticism
Introduction
Part One: Knowledge
Part Two: The Order of Nature
Part Three: Supernatural Entities
Part Four: The Function of Mitzvot
Part Five: The Nature of Torah
Afterword
Appendix I—The Role of Belief in Judaism
Appendix II—The Authenticity and Authority of the Zohar

Volume Two—Studies in Rationalism vs. Mysticism
1. Sod Hashem Liyreyav —When God Reveals His Scientific Secrets
2. Messianic Wonders and Skeptical Rationalists
3. Maimonides' Naturalization of Miracles
4. Students Disputing Teachers
5. The Evolution of the Olive
6. The Sages vs. Science: The Sun's Path at Night
7. Maharal's Multiple Revolutions in Aggadic Scholarship
8. The Question of the Kidneys' Counsel
9. Brain Death and Organ Donation
10. The Sages' Powers of Life and Death
11. Wrestling with Demons
12. The Evil Eye
13. Shiluach haKein: The Transformation of a Mitzvah
14. What Can One Do for the Deceased?
Bibliography

But before the book goes further in the editing process, there's a problem with which I am grappling. Some of this material is from papers that I wrote as part of my master's degree or doctorate, and is written according to academic convention. Other parts are taken from material that I wrote on this website or specifically for the book, and with which I wrote according to how I am comfortable writing. Now, the book should presumably have a unified style, even between the volumes. So which material should I bring in line with which?

Rambam or Maimonides? Ramban or Nachmanides? Chazal or the Sages? Abraham or Avraham? Shabbos or Shabbat? Chullin or Hullin? Hirsch or R. Hirsch? R. Moshe Sofer or R. Moses Sofer or Moses Sofer or Hatam Sofer or Chasam Sofer?

On the one hand, this book more-or-less fits in to the style of academic books. Yet on the other hand, the primary people who will be interested in reading this book are the people who speak about Rambam rather than Maimonides.

I would welcome reader feedback on this question!