Discover more from Rationalist Judaism
Exploring the legacy of the rationalist Rishonim (medieval sages), and various other notes, by Rabbi Dr. Natan Slifkin, director of The Biblical Museum of Natural History in Beit Shemesh. The views are those of the author, not the institution.
Over 4,000 subscribers
Something To Have By Your Door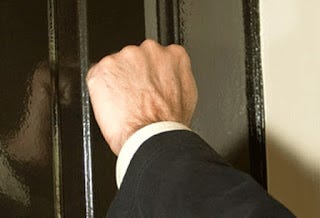 Following the argument that I had at the door with a collector, I decided to prepare some Torah material to give at the door to those seeking to be supported in learning rather than working. (Which, remember, almost always also means that they are raising their children without the tools or desire to work for a living.) It's an extract from Sefer HaBris, which you can download as a PDF at this link. I recommend printing it double-sided and having a stack by your door - or printing thousands of them and distributing them! (Note: I do not mean that this should be given in exclusion to a modest donation.)

Sefer HaBris, by Rabbi Pinchas Eliyahu Horowitz of Vilna (1765-1821), was a popular work which received approbations from numerous important rabbonim. R. Hurwitz has a very long chapter about the importance of training for a profession, including some extremely sharp mussar addressed at people who only teach Torah to their children. Note that the people whom he is rebuking are only against professional training for children; they are not against their children going into business, or being storekeepers. Thus, they are already in a better place than many Charedim today; yet he still condemns them for going against Chazal. Here is an extract in English translation:

"And behold, what I have determined to be correct: For any person who desires to be scrupulous in establishing as a cornerstone and basis for all G-d's commandments that he wishes to fulfill, that they be fulfilled purely for the sake of His great Name, it would be advisable that such a person have a trade with which he can support himself through his own efforts, and thus he will not need to rely on others, nor sustain himself from sustenance received from others. The result would then be that all that he does in terms of the commandments of G-d, he will do solely for the sake of His Name, and his performance of the commandments will not be adulterated with the hope of gaining from others – he will not attempt to appeal to others, neither will he flatter them, nor will he fear them.

"Also, such a person can be confident that he will not miss even a single day of his service of G-d, since his means of support is always at hand, and his sustenance is available in his dwelling and his own city. He will not lie down at night without having eaten, because a tradesman is never without sustenance, nor will he need to travel to faraway places in other lands to seek his sustenance. For when traveling, by necessity a person must be neglectful of the service of G-d, as is well known; there is no way to turn aside and focus on Torah and prayer with concentration when one is away from his place and has set out on the road.

"Thus for this reason, a person is obligated to teach his child a trade, to do some type of work with which he can support himself, as our holy sages of blessed memory and the wise men have said "Just as one is obligated to teach his son Torah, so too is he obligated to teach him a craft."

"And as far as I am concerned, the current generation's practice and custom, which is grounded in haughtiness, is evil; which is that most of the members of our nation do not want to teach a craft to their children, saying – with haughtiness and pride – "A trade is a great embarrassment to us." Only involvement with business and sales, like shopkeepers, is honorable and becoming in their hearts. But ultimately, when they are unsuccessful in business due to misfortune – because there is a concept of fate among the Jewish people as I mentioned above — at that point they have no food, and transgress many sins, as the sages said "R' Yehuda says: He who does not teach his son a trade, it is as though he has taught him the ways of robbery." In other words, according to R' Yehuda, even if he teaches him business – that is buying and selling goods - it is also as though he has taught him the ways of robbery. This is because sometimes he will not have any business to engage in, and he will then set himself up and engage in thievery – real work, making use of clever hands. Some of them engage in flattery of others and prostrate themselves for a cheap coin or loaf of bread; some openly steal and become thieves in the literal sense; some steal on the sly from Jews and non-Jews; some desecrate the Name of G-d amongst the gentiles due to the greatly disgusting acts in which they engage which damage the nations. This results in the gentiles saying "These are G-d's people who have come out from his land; there is no disgusting behavior in which they are not well schooled, neither is there any trickery in which they are not expert, nor any forgery of which they lack knowledge". This reaches the point that the gentiles say that the Talmud that the Jews teach their children is nothing but cleverness and slick ways to trick people.

"However, if these individuals would have a trade with which to support themselves, they would not do all of the aforementioned, as our sages of blessed memory have said "Poverty leads a man to transgress the will of his Creator." And the fault lies with the parents of these individuals in that they did not teach them a skill when they were yet young. Why should the gentiles say that Jews are swindlers who behave disgustingly? And why do they curse G-d's Torah? All because you have looked upon the work of your hands as contemptible and disparaged those who engage in a craft.

"And even more so do I feel anger towards those Torah scholars who do not want to teach their children a trade, and instead only Torah. They rely on the presumption that their children will be Rabbis or Judges, but ultimately many do not become learned enough in Torah to the point of becoming Halachic decisors among the Jews, and they end up "neither here nor there," becoming schoolteachers. And as the number of those who hold of this approach increases, there end up being more schoolteachers than students, and as a result, these "schoolteachers" cannot even bring in enough for half of their household expenses, their households lack basic food and clothing, and consequently they cannot even engage in their holy work faithfully.

"Some of these individuals engage with one another in some sort of side business, some serve as tutors giving lessons in private homes, and some venture off to study with students in far off lands, away from their wives, in order to earn their sustenance. As a result, their own children end up being boors, because they grow up without a father, and their wives must live with worry. Some of them, upon arriving at these far off lands, do not find any students, and their wives and children die of hunger. Some wander far and wide in distant lands, some become preachers focusing on speeches chastising their audiences, others prepare themselves to engage in homiletics, and they travel on long journeys giving lectures to the Jewish people, yet others travel to distant lands to collect handouts and they collect from the Jewish people. Others commit their words to writing and they publish these books and seek to sell them. Yet others wander off to all the far cities in search of sustenance – not chastising, not lecturing, not doing anything other than begging for sustenance for their household – that is, the individual's own wife and children and their need for money. And all of these individuals are dependant on others, and are seeking sustenance. And this calamity is all the fault of the fathers who refused to teach them a trade when they were yet young.

"Now indeed the fathers felt that they acted thusly for the sake of Heaven, relying on the opinion of R' Naharai who stated "I set aside all trades in the world and I teach my son only Torah". They do not understand that this is the method of the Evil Inclination, as is his typical way, to dress up and conceal things which are not good in the garb of piety, covering up all sins with love of G-d and fear of G-d and giving them an appearance of something that is for the sake of Heaven. And they do not know that this is not at all the true opinion of R' Naharai, as the MaHarSha of blessed memory writes:

"R' Naharai's opinion is not that one should set aside teaching his son any craft other than Torah, for it has been stated in the first Chapter that every father is obligated to teach his son a trade, and there is no dissenting opinion. Furthermore, we have learned "Any Torah learning that is not accompanied by labor will not last and leads to sin."

Rather, this is what R' Naharai meant: 'I set aside the study of all trades on a steady basis, and I teach him Torah on a steady basis and a trade on a sporadic basis.' And that is what is meant that a trade only stands by a person when he is young, for then he has it in his power to perform a difficult job on a consistent basis. But when he reaches old age or gets sick he can no longer work enough to support himself. The Torah on the other hand, is not like that, for through the merit of his Torah learning he will be blessed with pleasant easy work which he can perform even in old age and he will attain achievements in both [work and Torah learning] areas, like the "early pious ones mentioned in Tractate Berachos."
"Furthermore, one who makes use of his Torah knowledge in connection with earning his livelihood, will never become rich through it; rather it will cause him to be taken from this world as the Sages of blessed memory have said "He who makes use of the crown [of Torah] shall perish"; thus you see that he who profits from Torah learning removes himself from existence in this world.

"My brother, be shaken at this very great evil. For how long we will not direct our hearts to our hands, to encourage them to work? There is no doubt that anyone who transgresses the words of our Sages in this matter, and does not teach his child a profession, is destined to be held accountable for this before the Heavenly court, and will surely be punished. There will also be a punishment for the righteous person, who did this to his children out of noble intentions…"

- Sefer HaBris 2:12:10 (2:13:2 in the DBS version).