Posturers vs. Rebbi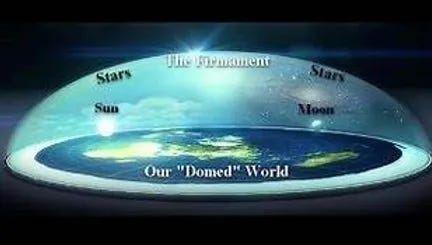 It's D-Day! Today is the day when Daf Yomi reaches the single most fundamental topic in any discussion about Torah and science - or indeed, about rationalism vs. mysticism in general. It's Pesachim 94 - the sun's path at night.

To briefly summarize: the Chachmei Yisrael state that in the evening, the sun doubles back and travels behind the opaque dome ("firmament") of the sky. No less than Rebbi himself, Rabbi Yehudah HaNasi, observes that this is not correct. And all the Geonim and Rishonim, without any exception whatsoever, interpreted this passage according to its straightforward meaning, as a discussion about where the sun goes at night (though Rabbeinu Tam maintains that Chazal were correct because the sun does indeed go behind the sky at night). It was only beginning in the 16th century that various authorities reinterpreted the Gemara such that it is not at all talking about the sun going behind the sky at night. And even after that period, there were still plenty of authorities who maintained the classical, traditional understanding of the Gemara (which is also, of course, the one which is by far the most reasonable).
So, what happens when you present this Gemara, along with the Rishonim and Acharonim, to those who insist that it is heretical to state that Chazal could be mistaken in their claims about the natural world? Some, such as Rabbi Moshe Meiselman, respond with an enormous amount of obfuscation, in an apparent attempt to confuse the issue and overwhelm people while avoiding the clear meaning of this topic. In other cases, as you can see from the comments to my post on this topic a few days ago, people respond with a lot of posturing.
The word "posturing" refers to behavior that is intended to impress or mislead. In this case, it's both. They make a lot of claims about how only True Torah Scholars™ like they and their rabbis understand this Gemara properly. They issue a lot - a lot - of insults about how I don't know what I'm talking about. But when it comes to actually explaining what they believe the Gemara to be talking about, and how this can possibly be reconciled with the words of the Rishonim and Acharonim that I present - they are silent.
Of course, the reason for this is that they have nothing of substance to say. Trying to claim that all the Rishonim and Acharonim actually agreed with Maharal is like trying to square a circle. It just can't be done. 
But they can't admit that the classical approach to this Gemara is correct. Because this would mean that Chazal were mistaken about a fact of the natural world which nowadays seems very basic. Indeed, we find that no less than Rema himself explicitly admits that the embarrassment of such a possibility forced him to reinterpret this Gemara, against the explanation of Rambam and others: 
"And behold, I say that the words of our Sages, may their memories be for a blessing, are all built upon the true wisdom, and their words contain nothing perverse or crooked—even though sometimes, at first thought, it seems that they do not accord with the words of the scholars which are developed via proofs, especially in the field of astronomy. And some scholars (in saying that the Sages can be mistaken in matters of science) support themselves with that which they said that 'the gentile scholars triumphed over the Sages of Israel'; this is also with the words of the Master, the Guide, who wrote that 'the science of astronomy was not fully developed in the days of the prophets and the early sages.' But one who investigates this will be shocked to say that the Sages, may their memories be for a blessing, did not know these matters! A person who is concerned for the honor of his Creator and the honor of the Sages of the Torah will not think thus, but rather will be meticulous with their words."
And yet, as Rema himself is honest enough to acknowledge - in contrast to some people - Rambam and others did accept this Gemara according to its straightforward meaning. (By the way, it should also be noted that Rema's reinterpretation of this Gemara is completely at odds with Maharal's reinterpretation of this Gemara.) 
The greatest irony is that those who can't bring themselves to accept that Chazal were mistaken are going against the very lesson taught in this Gemara by Rebbi himself. Rabbi Yehudah HaNasi  acknowledges that the Chachmei Yisrael were mistaken. Rabbeinu Avraham ben HaRambam presents this as the crucial lesson to take from this Gemara:

"And now, consider the guidance provided to us in this passage, and how precious is the principle that they taught: Rabbi Yehuda HaNasi evaluated these opinions based on the evidence alone, taking into account neither the identities of the Jewish sages nor those of the gentile sages; and he favored the gentile sages' view on the basis of this proof, which he thought would be accepted – that the wells are cool by day and hot by night. Truly is this master referred to as "our holy rabbi," for when a man throws off falsehood, retains truth, decides in its favor and retracts from his initial opinion when its opposite is proven to him, there can be no doubt that he is holy. Thus it is clarified to us that our Sages considered different views by examining their correctness and the proofs in their favor, not based on their exponents, whoever they might be."
I can't think of a more relevant lesson for us today. So many people decide whether they staunchly support something or fiercely oppose it solely depending on whether it is advocated by representatives of their preferred political group. They should learn from Rebbi to overcome confirmation bias and accept the possibility that one's chosen representatives can be wrong. Indeed, this greatness can be seen in the Torah itself, which is not hesitant to ascribe error and sin to its heroes!

Anyway, in honor of the day, I'm making my extensive monograph on this topic - which is also a chapter in my new book Rationalism vs. Mysticism - free for download at this link. The one-page summary can be downloaded at this link. If you're in Daf Yomi, please let me know how the discussion of this topic went!
Meanwhile, there is good news for anyone who purchases Rationalism vs. Mysticism from the museum website - you will receive via email a free audio version of the introduction! You can purchase the book at this link.