Discover more from Rationalist Judaism
Exploring the legacy of the rationalist Rishonim (medieval sages), and various other notes, by Rabbi Dr. Natan Slifkin, director of The Biblical Museum of Natural History in Beit Shemesh. The views are those of the author, not the institution.
Over 4,000 subscribers
Pigs In Shtreimels II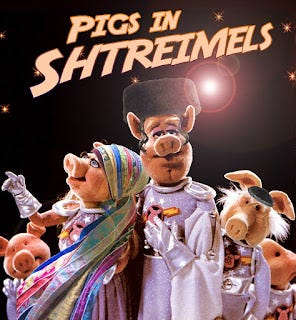 Four years ago, there was the notorious rally in the Jerusalem Arena for Beis Yaakov girls. The purpose of the rally was to dissuade them from attending any of the numerous academic higher education programs for charedim that have sprung up in recent years. Rav Baruch Shapira introduced the program by relating a conversation that he had with Rav Steinman about the event. Rav Steinman said, "Charedi academic programs?! It's like a pig in a shtreimel!" (See my post about the event, which summarizes the messages from the speakers.)

Well, now there is a new campaign against the pigs in shtreimels. A prominent Rosh Yeshivah, Rav Yigal Rosen, declared that he has launched an initiative in his yeshivah, which he hopes will be emulated by others. If a student marries a girl who is enrolled in a charedi academic program, then neither the rabbis nor the students are allowed to attend the wedding.

As I wrote in my previous post on this topic, it is indeed true that once a person steps out of the daled amos of the yeshivah or Beis Yaakov, they are exposed to all kinds of influences and ideas that run contrary to charedi and Torah values. But on the other hand, im ein kemach, ein Torah. We have to earn money, work, and build up society. If charedim are going to radically diverge from tradition by sending everyone to kollel, then the women have to shoulder the workload of both partners (while also giving birth and raising children). And it's just not possible for charedi society to accomplish that if the women only attend Beis Yaakov. It will just accelerate how charedi society is trying to lead itself, and ultimately all Israel, to economic ruin