Discover more from Rationalist Judaism
Exploring the legacy of the rationalist Rishonim (medieval sages), and various other notes, by Rabbi Dr. Natan Slifkin, director of The Biblical Museum of Natural History in Beit Shemesh. The views are those of the author, not the institution.
Over 4,000 subscribers
Pi and Rambam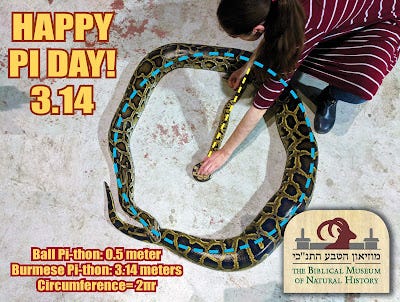 Today, March 14th, is Pi Day (3.14). And pi has been yet another of the battlefronts in the Rationalism/Mysticism Wars.

Rambam (in his commentary to Eruvin 1:5) explicitly describes pi as being an irrational number (i.e. a number that cannot be accurately expressed by a fraction). Rabbi Moshe Meiselman, in Torah, Chazal and Science p. 155, claims that Rambam "was not merely repeating an accepted piece of information, since this fact was as of yet unknown to the rest of the world." Rabbi Meiselman further claims that Rambam deduced this from the Talmud (positing a very strange inference that Rambam derived this from Chazal approximating Pi as three rather than using a fraction, which he claims means that they knew that Pi could not be accurately expressed as a fraction). As such, Rabbi Meiselman presents this as evidence that Rambam, and in turn Chazal, possessed wisdom that was ahead of their time, and was somehow derived from the Torah or some other such supernatural source.

Rabbi Meiselman's claim that has been echoed by others, such as Jonathan Rosenblum and Rabbi Yaakov Menken. They all use it to delegitimize the rationalist approach, claiming that if Rambam had supernatural knowledge of science, then it's foolish to believe that Chazal (who were even greater) made scientific errors.

However, this claim about Rambam and pi is completely false. Rambam's statement about pi is by no means extraordinary.

Boaz Tsaban and David Garber note that "Various ancient Greek writers, including Hero, Eutocius, and Simplicius, understand the difficulty of finding an exact value for the ratio, and seem to realize the possibility of its being irrational," although they did not say so definitively. It is thus certainly no surprise that after centuries of failed efforts to calculate the value precisely, people would conclude that it is indeed irrational.

The fifth-century Indian mathematician Aryabhata wrote that "Add four to 100, multiply by eight and then add 62,000. By this rule the circumference of a circle of diameter 20,000 can be approached." The 15th century commentator Nilakantha Somayaji interprets the original words as saying that not that is this an approximation, but that the value is irrational.

Then, at the turn of the ninth century, the Persian mathematician Muhammad Al-Khwarizmi notes that there are several different methods for calculating Pi. A marginal note (I am not sure when it was written) observes that "It is an approximation not a proof, and no one stands on the truth of this, and no one but Allah knows the true circumference of the circle, as the line is not straight and has no beginning and no end, we merely attempt to approximate and discover the root, but even the root has no definition as no one may know its exact value but Allah, and the best of these approximations that is to multiply the diameter by three and seventh as it is faster and simpler and only Allah might know it true."

The Muslim scholar Abu al-Rayhan al-Biruni, who lived from 973-1048, was familiar with Aryabhata's works. In The Encyclopedia of the History of Arabic Science, [Roshdi Rashed ed.], vol. 2, London/New York, 1996, p. 454), Boris Rosenfeld and Youschkevitch note that al-Biruni described Pi as irrational. In their discussion of medieval Arabic science, they further note that "...Arabic mathematicians repeatedly expressed their belief that the ratio of the length of a circumference to its diameter was irrational... Subsequent European mathematicians were also sure that pi is irrational but only J. H. Lambert, a native of Alsace, in 1766 succeeded in proving this."

Thus, the irrationality of pi was certainly not "as of yet unknown to the rest of the world." Just as the early Greeks seem to have suspected and just as the early Indian and Muslim scholars were certain, Rambam was likewise certain that pi is irrational. (As for Chazal, there is absolutely no reason to believe that they knew pi to be irrational, but even if they would have known it, this would be consistent with others in antiquity.)

Rambam was an utter genius. But he wasn't ahead of his time scientifically, and he did not have any supernatural sources of knowledge about science. If someone wants to delude themselves into thinking otherwise, it doesn't really bother me; the only problem is when they use this mistaken view to try to delegitimize those who take an honest, factually-based, rationalist approach. And such delegitimization is also, ironically, the ultimate perversion of Rambam's legacy.