Discover more from Rationalist Judaism
Exploring the legacy of the rationalist Rishonim (medieval sages), and various other notes, by Rabbi Dr. Natan Slifkin, director of The Biblical Museum of Natural History in Beit Shemesh. The views are those of the author, not the institution.
Over 4,000 subscribers
Out Of Their Minds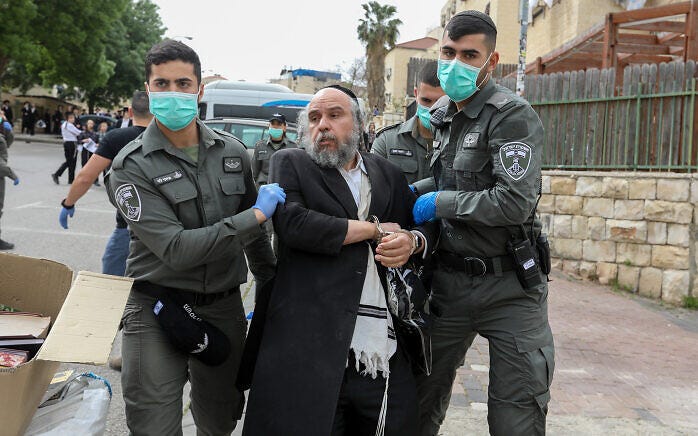 The tensions between the charedi and non-charedi sectors of the population in Israel are very high at the moment. Charedim feel that the government is unfairly discriminating against them with coronavirus restrictions. Non-charedim feel that since the infection rate is much higher in charedi communities, they therefore need more restrictions. Add this to the simmering resentment over coronavirus in the entire country, and it's a powder-keg.
Yesterday, that powder keg exploded. Someone took a video of an utterly shocking incident at a train station, where some chareidi families were about to board a train. An Israel Railways inspector told them that they weren't allowed to board. "Charedim are not allowed on the train," he told them.
Naturally, this outrageous incident caused a national uproar. Deputy Education Minister Meir Porush (UTJ) fumed that "It is shocking to see how far the policy of incitement against the ultra-Orthodox permeates... I demand that the Minister of Transportation sort out the CEO of Israel Railways regarding the behavior of his employees. Shame!" Transportation Minister Miri Regev - someone with strong sympathies to the charedi community - was shocked and ordered an immediate investigation of Israel Railways.

The first twist then occurred. Israel Railways said that they had absolutely no idea who the person was. He wasn't an employee of theirs.
So who was it? The speculation was that it was some random person with a grudge against charedim. Not an Israel Railways problem, but still reflective of a general problem with anti-charedi hatred.
The next twist came when the real identity of the "Railway Inspector" was discovered.
You're not going to believe this.
He was an actor.
Hired by...
...the municipality of Bnei Brak.

Yes, that's correct. The city council of Bnei Brak were upset that a light rail line planned for the Gush Dan area is not slated to pass through Bnei Brak. So they decided to hire an actor to stop charedim boarding trains and create an outrage about discrimination against charedim.

This might be the most mindbogglingly stupid decision ever made by a city council. Israel Railways is furious over the defamation and has filed a police complaint. Journalists - including several charedi journalists - are fuming and have called for the officials of Bnei Brak to resign.
Strangely, the fuss seems to have died down quite quickly (possibly eclipsed by the news of a lockdown). But can you imagine if it were the other way around?! If the city of Tel Aviv hired a charedi actor to stop secular Jews from boarding a train?! The charedi MKs would call it a blood libel. There would be protests until the city officials resigned.
How does such an insane act get authorized? Only when people are so caught up in their own victimhood and their own tiny worldview that they don't think about the consequences of their actions.
I can't even imagine what proper teshuvah for such a thing would entail (and how do you ensure that everyone who heard about the incident discovers the truth?). But I hope it happens.