Discover more from Rationalist Judaism
Exploring the legacy of the rationalist Rishonim (medieval sages), and various other notes, by Rabbi Dr. Natan Slifkin, director of The Biblical Museum of Natural History in Beit Shemesh. The views are those of the author, not the institution.
Over 4,000 subscribers
Our Most Incredible Exhibit Yet!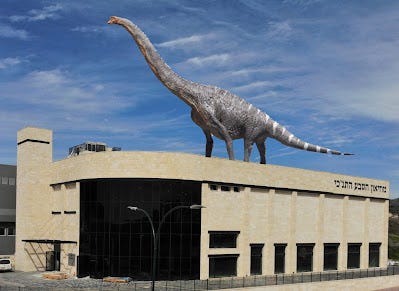 We are thrilled to announce our spectacular new "behemoth" exhibit! This follows the view that the Biblical behemoth of the Book of Job, described as a gigantic swamp-dwelling creature with a tail like a cedar-tree, is the brachiosaurus. Obviously there are no stuffed brachiosauruses available, but we were able to mount this incredibly lifelike model on the roof of our building! Take a look at it as you drive past the museum, and for more about the Biblical behemoth, read our book Sacred Monsters, available at https://www.biblicalnaturalhistory.org/.../sacred-monsters/
Moadim le-simcha!