Discover more from Rationalist Judaism
Exploring the legacy of the rationalist Rishonim (medieval sages), and various other notes, by Rabbi Dr. Natan Slifkin, director of The Biblical Museum of Natural History in Beit Shemesh. The views are those of the author, not the institution.
Over 4,000 subscribers
One Family, and Trump Derangement Syndrome
My wife and I enjoyed an amazing event last week on behalf of OneFamily, the organization set up by our friends Marc and Chantal Belzberg to help victims of terror. If you're not familiar with their work, I recommend watching the incredibly moving video at this link. I had the opportunity to meet the inspirational Rachelle Fraenkel, with whom I had a long talk about rationalism vs. mysticism, as well as true versus fake achdut.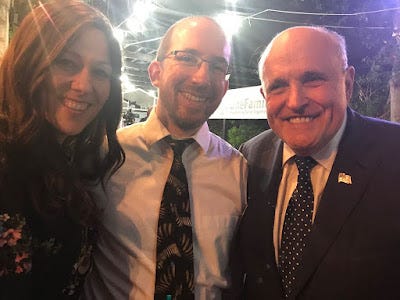 The keynote speaker was former Mayor of New York Rudy Giuliani, who spoke with great moral clarity about the need to correctly identify terror, and the importance of dealing with terror attacks not only in terms of preventing and responding, but also in terms of long-term support for victims. He described how his own visit to Israel in the aftermath of the 1996 bus bombings inspired his reaction to 9/11, and that Israel taught him the importance of resilience and courage. He also spoke about how he worked to have Arafat kicked out of the New York Opera, much to then-President Clinton's displeasure. He lamented how the media does not portray the justness of Israel's cause, and that it is crucial to recognize that Israel is fully entitled, and required, to defend itself, with necessary means, from the murderers who seek to attack it.

The next day, I posted all the above on Facebook. And that's when people went nuts.

It turns out that for many of my friends, it is disgraceful and even inconceivable to honor Giuliani. That is because notwithstanding his accomplishments as mayor of New York, and his outspoken, unflinching support for Israel, he is now working on behalf of Donald Trump. And so he is to be despised and ostracized, not honored at events.

This was a little surprising to me. I mentioned to them that it looks like an illustration of Trump Derangement Syndrome - that no matter what good a person has done or is doing, it is all worthless if they are connected to Trump. Several of my friends unabashedly stated that this is exactly the case!

Now, let me say that I am of the view that Trump is a loathsome maniac. However, claims of his being an antisemitic racist Nazi seem somewhat hysterical and exaggerated. And it seems that he is accomplishing some great things; indeed, it may be that a crazy bully is exactly the sort of person needed to get Iran and North Korea to step into line. Furthermore, his support for Israel is outstanding. And in addition, we are talking about someone working for Trump, not Trump himself; should Nikki Haley likewise be shunned?!

People who go ballistic at any praise of anything connected to Trump remind me of many people in the frum world during the Obama years. I am no fan of Obama - he threw Israel under the bus, and caused catastrophic damage in the Middle East by empowering Iran. But to claim that he was a thoroughly evil terrorist-supporting Muslim, as many people seemed to think, and that no Jew in their right mind could have supported him, was simply ridiculous. You have to be able to understand that in the real world, where there are many complex factors in every issue, reasonable people can have different opinions about things.

There are those who argue that Trump is in fact not good for Israel, and that whatever moves that he makes for our benefit will automatically backfire with the next Democratic administration, and that Israel should not align itself too closely with a particular controversial administration. Maybe (though this is denied in an interesting article in this week's Jerusalem Post). Still, I think that reasonable people can decide that the benefits outweigh the risks. And what about the risks of not honoring the current administration?!

Others conceded that Trump is good vis-a-vis Israel, but said that he (and Giuliani) should be shunned because he's terrible for America. But I'm not American; I'm an ex-Brit living in Israel. Are my priorities not allowed to be different than those of people living in America? I thought that these people are against America First!

Others said that I should pay attention to the view of American Jews, who are against him, with the exception of those attempting to get various government benefits and various charedim. Well, there are also plenty of American Jews here in Israel who are not charedi and who are not going to get any benefits and who still support him, because their number one priority is Israel.

But what about Trump (and some say Giuliani) being an immoral person? There are two responses to be made to that. First is that I suspect that these people would not raise the same objection if Bill Clinton was being honored, despite his proven cases of immorality and credible allegations of much worse. Second is that there are different facets of morality. Trump fails in many respects. But others, such as Sanders, Trudeau and May fail in being able to distinguish between terrorists and victims of terror - sometimes they get it exactly backwards. Those are also aspects of morality, and they are of much more pressing relevance, at least from where I am standing.

I cannot stress enough that I am not saying that it is wrong for people to oppose Trump. I completely understand why people would oppose him. But at the same time, it should be perfectly understandable to them why other reasonable people, and especially those for whom Israel is the number one priority, might support him (while not blinding themselves to his flaws). And when we're talking about Giuliani, who is not actually Trump, but who merely works for him, and who is a person with great accomplishments and who is a staunch supporter of Israel, it is certainly appropriate to celebrate such a person!

We don't have many strong supporters in the world. Let's celebrate those that we do have, not disavow them because of their shortcomings. That's the mistake that Satmar makes.