Discover more from Rationalist Judaism
Exploring the legacy of the rationalist Rishonim (medieval sages), and various other notes, by Rabbi Dr. Natan Slifkin, director of The Biblical Museum of Natural History in Beit Shemesh. The views are those of the author, not the institution.
Over 4,000 subscribers
Okay, Okay, I Won't Call It That!
Well, I was inundated with comments and emails after yesterday's post about the book I am currently working on. Everyone agreed that the title I was toying with, One Judaism, Two Religions: Rationalism versus Mysticism, was an appalling idea. Thank you for your input, and I will abandon that title!

I liked two of David Bar-Cohn's suggestions the best. One was Rationalism Restored: Defending Jewish Intellectual History from Religious Revisionism. The other, which I prefer, was Rationalism vs Mysticism: Schisms in Traditional Jewish Thought. I like the way it presents the fact that there are very deep differences between the two worldviews, yet does not try to delegitimize either of them. That's an important component of my presentation, in which I always stress that while I personally identify with the rationalist worldview, I do not believe in trying to exterminate the other perspective.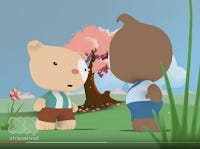 Co-existence between the two groups is difficult. There is an unfortunate tendency among some mystics to brand rationalists as heretics, and there is an unfortunate tendency among some rationalists to brand mystics as idiots. But perhaps each can at least see that the other side has a long legacy, and that there are people for whom it is uniquely suited. It's a case of different strokes for different folks.

Furthermore, fortunately Judaism is largely a religion of deed rather than creed. There are relatively few practical ramifications, on a daily basis, between rationalists and mystics. I myself daven at a wonderful tiny shteeble that contains both die-hard rationalists and staunch mystics, and we all get along just fine. It's only when people give divrei Torah that the sparks fly.