Of What Is God Inordinately Fond?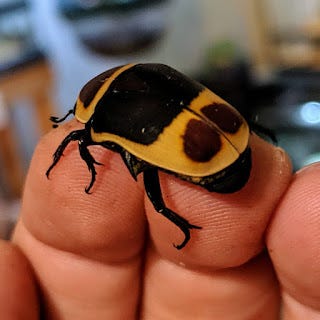 We added a new small exhibit to the Biblical Museum of Natural History. The four inhabitants are called George, Paul, John, and Ringo. They are the beetles.

These are sun beetles - richly colored in burgundy and yellow, with wing-cases that have the consistency of velvet. I am enormously fond of them, and much to my delight, they have started breeding.

At the moment, I am intensively planning the new museum building, into which we will be moving in a few months. This involves some reorganization of exhibits, as well as adding many new exhibits. Currently, all our insects and invertebrates, dead and alive, are housed in the Insect section of the Kashrut Exhibit. But in the new building, it will be different. The Hall of Kashrut will only feature kosher insects - i.e. our locust colony - while the Hall of Small Animals will include an Insect Zoo, featuring the insects of the Torah (which will be a combination of live exhibits plus super-size models).

Now, the insects mentioned in the Torah include ants, bees, hornets, fleas, scorpions, lice, spiders (debatably), silkworms (indirectly), millipedes, Kermes echinatus (the tolaat shani), and worms. But no beetles!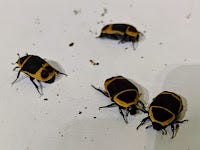 But the beetles are too special not to exhibit. And so I was trying to think of a way that it makes sense to display them. Then I remembered something!

There is a famous story, possibly apocryphal, about the distinguished British biologist J.B. Haldane. Once, he found himself in the company of a group of theologians, and they asked him what one could conclude as to the nature of the Creator from a study of His creations. Haldane is said to have answered that the Creator apparently has "an inordinate fondness for beetles."

There's only about four thousand species of mammals, and 9000 birds. There's about 300,000 species of plants. But there are over 350,000 species of beetles that have already been identified - and it is estimated that the total number of beetle species may be one and a half million.

Whether one believes that God created every species separately, or employed creative wisdom to enable them to evolve from a common ancestor, the end result is that He seems to have delighted in there being a very, very lot of different types of beetles.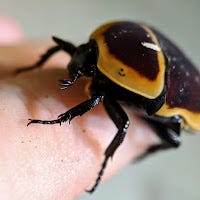 Thus, the perfect place in the museum to exhibit beetles is in the Hall of Wonders. That hall will exhibit awesome species such as the elephant, and extraordinary creatures such as the duck-billed platypus, but it will also include an exhibit on the sheer richness of the natural world. There is Mah gadlu maasecha Hashem, "How great are Your works," and there is Mah rabu maasecha Hashem - "How manifold are Your works." The wonder of God's universe is not just in its extraordinary creatures, but also in the sheer rich diversity of them.

And what better creatures to illustrate that richness than beetles?