Discover more from Rationalist Judaism
Exploring the legacy of the rationalist Rishonim (medieval sages), and various other notes, by Rabbi Dr. Natan Slifkin, director of The Biblical Museum of Natural History in Beit Shemesh. The views are those of the author, not the institution.
Over 4,000 subscribers
Of Locusts and Leadership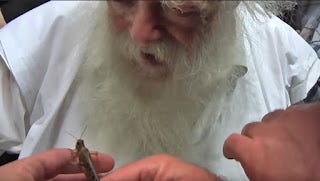 Everyone in the charedi world loves the story about Rav Chaim Kanievsky and the grasshopper. This itself is amazing, because the story actually undermines a fundamental charedi tenet about Daas Torah. It also helps expose a myth about Rav Chaim's leadership.
In the story, the reason why the appearance of the grasshopper was so valuable is that it helped Rav Chaim understand the Torah's description of it. In other words, Rav Chaim did not understand this description of a grasshopper until he actually saw one. Which means that he was not able to derive this halachically-significant information about the world from his knowledge of Torah, extraordinary as it was. Nor did Hashem supernaturally plant it in his mind. He had to actually see a grasshopper in order to understand it.

This directly contradicts the notion that Gedolim such as Rav Chaim are able to obtain supernaturally-sourced knowledge of the world from the Torah, as per the concept of Sod Hashem Liyreyav. Of course, in my book Rationalism vs. Mysticism I show that Sod Hashem Liyreyav was never supposed to be such a far-reaching concept, but that is certainly how vast swathes of the charedi community employ it today. And it's certainly how Rav Chaim was regarded.
People were encouraged to seek and follow Rav Chaim's opinion on topics that he couldn't possibly know about. Should someone have a certain medical procedure? Is so-and-so a tzaddik or an abuser? How dangerous is coronavirus, or the vaccine? Should this boy marry this girl? Does this charity operate with integrity or not? From a non-charedi perspective, asking him such questions was obviously a mistake. But even from a charedi perspective, it's contradicted by the grasshopper story. 
*   *   *

Incidentally, for those who still maintain that the grasshopper story shows Rav Chaim's supernatural status, here's another story, the truth of which I can personally attest. Yesterday, when I was walking home from shul with my adorable youngest son, he complained that we never get to see migrating storks. Literally (and I mean that literally) within seconds, some migrating storks flew overhead! 
Of course, this story doesn't mean that I'm a supernaturally special person.
It means that my son is!
(If you'd like to subscribe to this blog via email, use the form on the right of the page, or send me an email and I will add you.)