Discover more from Rationalist Judaism
Exploring the legacy of the rationalist Rishonim (medieval sages), and various other notes, by Rabbi Dr. Natan Slifkin, director of The Biblical Museum of Natural History in Beit Shemesh. The views are those of the author, not the institution.
Over 4,000 subscribers
Corbyn, Antisemitism, and Israel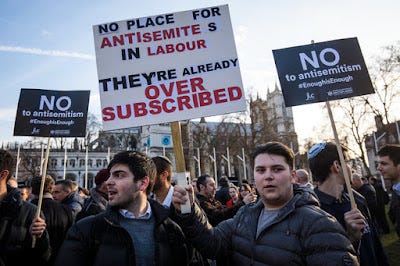 Over the last few weeks, a mesmerizing political drama has been unfolding in my old home country, England. The leader of the opposition, far-left Labor politician Jeremy Corbyn, has been the center of an enormous scandal about antisemitism in the Labor party and his own complicity with it. After being repeatedly blasted in the press, and a demonstration taking place outside Parliament, Corbyn finally issued a firm apology in which he acknowledged the existence of antisemitism in the Labor party and promised to fight it.

Now here is where it gets truly incredible.

Just as Corbyn was trying to desperately extract himself from this mess, he went and attended a Passover seder by a radical fringe group known as Jewdas.

The press is noting that Jewdas once sent out a tweet calling Israel "a steaming pile of sewage which needs to be properly disposed of." But the press appears to have missed some of the more revolting statements. Last year, the Jewdas haggadah included the following: (WARNING - it includes obscene language)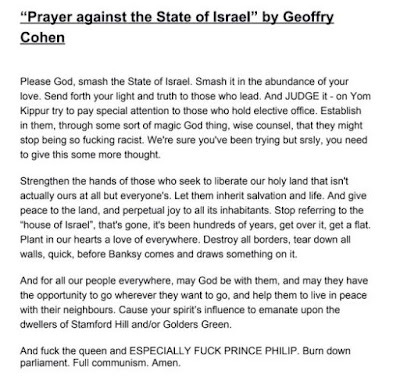 This year's edition omitted that, but instead included the following:




As well as the following: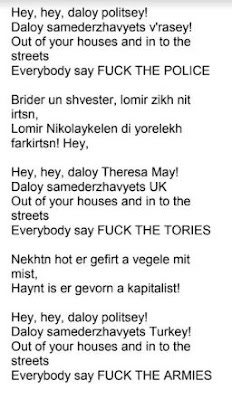 Now there is some disagreement going on in the UK about whether Jewdas is a group of "good Jews" or "bad Jews," since they have put in a lot of effort to fight certain types of antisemitism. Still, I recommend this important article by non-Jewish leftist Alan Johnson, about the connection between anti-Zionism and antisemitism. He points out left-wing antisemitism today has taken on a new form, that he calls "antisemitic anti-Zionism." Johnson notes that "Antisemitic anti-Zionism bends the meaning of Israel and Zionism out of shape until both become fit receptacles for the tropes, images and ideas of classical antisemitism. In short, that which the demonological Jew once was, demonological Israel now is: uniquely malevolent, full of blood lust, all-controlling, the hidden hand, tricksy, always acting in bad faith, the obstacle to a better, purer, more spiritual world, uniquely deserving of punishment, and so on."

Yet, for argument's sake, let's say that Jewdas isn't an antisemitic group. And some people - even those who have been protesting Corbyn and Labor's antisemitism - argue that attending the Jewdas seder was fine, since after all, they are a group of committed Jews.

But all this is missing the point.

After such a huge stink about antisemitism in the Labor party, after Corbyn had to apologize and promise that he was committed to uprooting antisemitism, just a few days later he attends such an event? Of all the Jewish groups to meet with, this is the one that he chooses? What kind of message does this send to the rest of the Jewish community?

The editor of the UK Jewish Chronicle presented a more focused critcism, in light of the fact that last week, Jewdas actually put out a statement opposing the protests over antisemitism in the Labor party, claiming that it was all "the work of cynical manipulations by people whose express loyalty is to the Conservative Party and the right wing of the Labour Party... a malicious ploy to remove the leader of the Opposition and put a stop to the possibility of a socialist government." The Jewish Chronicle points out the following:

"...It's important to recognise that the significance of last night's revelation that Jeremy Corbyn's first public engagement with British Jews since last week's 'Enough Is Enough' demonstration was to take part in Jewdas's 'third Seder' has nothing to do with whether Jewdas are 'good' or 'bad' Jews – a revolting concept. It's not even anything to do, really, with whether or not Jewdas is a 'fringe' organisation....
Because the real point is specific and limited – and all the more important for that.
It is that at the very time when Jeremy Corbyn is claiming to be "an ally" in the fight against antisemitism, when he is issuing finely worded statements about his commitment to that fight, the one group he chooses to endorse by his presence just days after the mainstream Jewish community protested about his refusal to take antisemitism seriously is the group that last week issued a statement dismissing the idea that there is any serious issue around antisemitism in the Labour Party."
Corbyn himself has argued that there was nothing at all wrong in attending the Jewdas event, and he seems perplexed that anyone sees it otherwise. "It was very interesting talking to a lot of young people about their experiences of modern Britain, and I learned a lot," he said, "Isn't that a good thing?"

There comes a point when a person appears to be so utterly obtuse, that it's hard to see the situation as being anything other than either all a wilful deception, or that the person is so morally blind as to be evil.