Discover more from Rationalist Judaism
Exploring the legacy of the rationalist Rishonim (medieval sages), and various other notes, by Rabbi Dr. Natan Slifkin, director of The Biblical Museum of Natural History in Beit Shemesh. The views are those of the author, not the institution.
Over 4,000 subscribers
O Canada!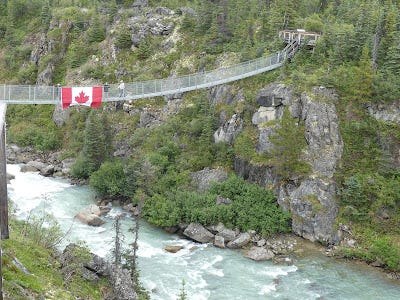 Extra points if you can guess where on the Canadian border
I am at in this picture. Clue: An animal named Buck
Tonight I head out to Canada for a week; more specifically to Toronto, a very different part of Canada to that which I briefly visited in the photo on the right. My schedule is as follows:

On Shabbat, I will speaking at BAYT, with a Motzai Shabbat multimedia presentation on "The Animal Kingdom in Jewish Thought."


Sunday evening is a special private event for the museum, at which I will be speaking on the topic of "Rationalist Judaism vs. Biblical Natural History," with an introduction by Rav Shlomo Miller. If you'd like to attend, please email Julie@BiblicalNaturalHistory.org. (Please be aware that this is a fundraising event!)

On Tuesday evening at 8pm, I am speaking on the Chicken Wars at Shaarei Shomayim.

If you'd like to contact me about a private meeting, please email me at director@BiblicalNaturalHistory.org.