Discover more from Rationalist Judaism
Exploring the legacy of the rationalist Rishonim (medieval sages), and various other notes, by Rabbi Dr. Natan Slifkin, director of The Biblical Museum of Natural History in Beit Shemesh. The views are those of the author, not the institution.
Over 4,000 subscribers
Not Stupid, Slightly Stupid, and Very Stupid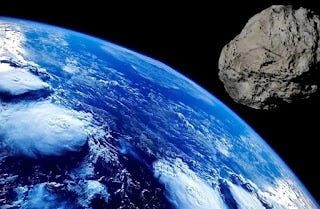 Although thousands of people enjoyed their visit to the Biblical Museum of Natural History this week, there were quite a few visitors who were extremely disappointed not to see the creature they were most excited about: the Brazilian strawberry salamander!
I would like to reiterate what I wrote in a previous post. People who believed that it was a real creature are not stupid! In fact, among those who fell for it was a PhD biologist. And it's clear that if it hadn't been April Fool's Day, many more people would have fallen for it. After all, it was presented in a convincing way by a reputable institution. It's not stupid to assume that the institution is telling the truth.
On the other hand, certain other things do strike me as slightly stupid.
Did you know that there's an asteroid which just passed very close to earth? Of course the key important factor about asteroids is their size. This one's size was described as follows:

Now, I'm pretty fluent in the size of giraffes, and I think about them a lot more than the average person, but even I would find it much more useful to simply have the size of the asteroid in meters, or to visualize it in terms of something of a similar size, not a multiple of giraffes. But at least it's a nice easy number, right?

Gaaah! I know the size of a hippo, I can estimate three hippos, but half a hippo?

But it gets worse!
On Friday, another small asteroid, designated 2022 GU3, is also set to pass by the planet:

All I can say is that it's a good thing it's only 9.6 American buffalos. If it was 9.7 then I'd start to get worried. 
But the record-holder for stupidity in my book this week is the employee of a certain airport in Europe that I was at. 
As a frequent flyer, I get to use the business lounge. My flight was called, and I decided to quickly pop to the bathroom. Unfortunately, when I tried to exit the bathroom, I discovered that the door was broken and it had locked automatically with no way of opening it. Since it was a business lounge, the bathroom was set off in a quiet area, and I couldn't call out to anyone. And the doors and walls were floor-to-ceiling, so I couldn't crawl out under them or climb out over them. I had my phone, but my flight was about to board, and who could I call that would come quickly? Rummaging around in my bag, I found a plastic knife, with which I managed to force the lock open.
I quickly went to the desk and warned the staff that the door was broken and that I was only able to extract myself with a knife. "Thank you sir, let me take a look" said the staff member. I took him to the bathroom and he walked inside the cubicle. "Here, take the knife," I said. "No sir, no thank you, that is not necessary," he said, and closed the door, promptly locking himself in with no way of extracting himself.