Discover more from Rationalist Judaism
Exploring the legacy of the rationalist Rishonim (medieval sages), and various other notes, by Rabbi Dr. Natan Slifkin, director of The Biblical Museum of Natural History in Beit Shemesh. The views are those of the author, not the institution.
Over 4,000 subscribers
Noah and the Dragon
Over the better part of the past year we have been working on an incredible Noah's Ark exhibit for the Biblical Museum of Natural History, which includes several components. One is a scale model of the Biblical ark. Another is an extraordinary range of artistic models of Noah's Ark, showcasing not only artistic beauty, but also the immense power of the Biblical story to capture people's imagination. The third component is a collection of model Noah's Arks from around the world which reflect the zoogeography of each region.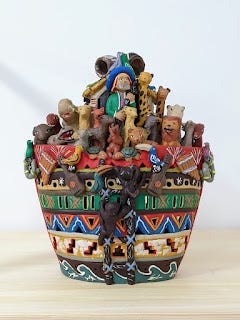 The latter ties in very closely to one of the museum's fundamental messages. Different parts of the world have different wildlife which become part of cultural heritage of the people in those regions. And the wildlife of the Bible and of the Jewish People is the wildlife of Biblical Israel, not that of Europe of North America.
Everyone perceives the animal kingdom in terms of the animals with which they are most familiar, which is generally the animals from their part of the world. The cultural heritage of Jews in Europe included the aryeh and tzvi and nesher from the Bible and Pirkei Avot, significantly reflecting their connection to their ancestral homeland. But they weren't familiar with these animals in Europe, and that's how the tzvi became a deer instead of a gazelle and the nesher became an eagle instead of a griffon vulture.

This concept is expressed beautifully in our collection of arks from around the world. We have arks with llamas and toucans and Spanish architecture and Latino Noah - from Peru. We have arks with bears and raccoons and porcupines and skunks and Noah in a Davy Crockett hat - from North America. We have a European ark with golden eagles and alpine ibex and badgers and marmots. We have African arks with wildebeest and warthogs and humped Zebu cattle and African Noah and wife. We have an Australian ark with kangaroos and koalas and emus and platypuses. We even have an Arctic ark, featuring polar bears, snowy owls, caribou and musk ox.
But Asia was a challenge.
There aren't a lot of Biblical peoples in Asia. We did manage to obtain some very primitive Noah's Arks from the Philippines and Sri Lanka, but while Noah and his wife were of a matching ethnicity, the animals on the arks were not specific to the region.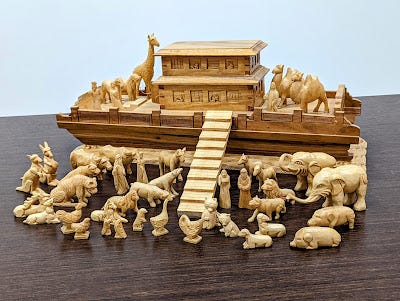 Then I found something extraordinary on Ebay: a Chinese ark! The architecture was in the style of a pagoda, and Noah and his wife were Chinese! And the animals that accompanied it, while including some species from various places around the world, had a particular Asian focus, including pandas, tigers, Asian water buffalo, and Asian elephants, all carved in a very distinctive Oriental style.
I purchased the ark, but I was not able to find out anything about who made it or where it was made. Which was a pity; museum exhibits are much more professional and engaging if they have a proper history and story to go with them. And this ark surely had a story - why would someone make a Chinese ark?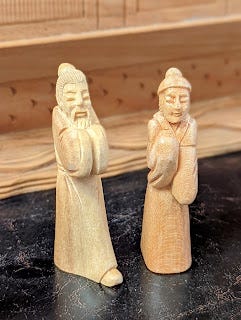 Meanwhile, in my extensive research of archives of auction sites, I came across a picture of an even more extraordinary Chinese version of Noah's Ark: a dragon boat! Meticulously carved from Chinese camphor wood, this incredibly ornate ark was created the style of the famous traditional Chinese dragon boat, which has been part of Chinese culture for thousands of years. It had an oriental dragon's head emerging from the bow and its tasseled tail from the stern. Along with Chinese Noah and his wife, it featured twelve pairs of animals, some carved into the boat and some as separate figures, corresponding to the twelve animals of the Chinese zodiac.
It was the most extraordinary ark that I had ever seen - and I have seen many thousands of models of Noah's Ark! It looked like it was designed by the same person that had produced the pagoda ark that I had purchased, but I did not know who that was. And the only information that I had about this dragon ark was a website address that appeared on the picture - but the website no longer existed.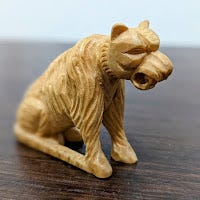 Then, a few weeks ago, I had a brainwave. There's a website which archives extinct websites. I used it to find an archived version of the defunct website that appeared on the dragon ark photo. It was a commercial site selling special carved wooden souvenirs from China, including both the dragon ark and the pagoda ark, and there was an email address on it. I wrote to that address, and it was still active! The person responded that the business had long since closed, but she had an email address for the person who had supplied them with the arks, a woman by the name of Stella Zang from Bejing.
And so I wrote to Stella in Bejing. And she responded that the arks were designed by her father-in-law, Wanlong Zang, a master woodcarver from the Zhejiang province near Shanghai. His father had converted to Christianity, and Wanlong had decided to use the family's ancient Chinese woodcarving techniques to create Biblical scenes, including Noah's Ark. He had created a workshop which operated for a while, but it became very difficult to find workers, since most people preferred to work in offices rather than spend years learning ancient Chinese woodcarving techniques. And so the business had closed down, and they didn't have any arks left, and no more would ever be made.
That's such a pity, I replied. I explained about the museum exhibit that I am working on, and how special it would have been to exhibit a Chinese dragon ark. 
Well, she replied, in that case...
She explained that that there was actually one dragon ark remaining. It was their family's own model. And for the sake of such a museum exhibit in the Holy Land, they would sell it to me!
I could not believe the museum's good fortune. It arrived today, in the most ornate gold-filigreed chest that I have ever seen. The very last Chinese dragon-boat Noah's Ark, which will never be made again. It's absolutely incredible and such a unique piece of Biblical art!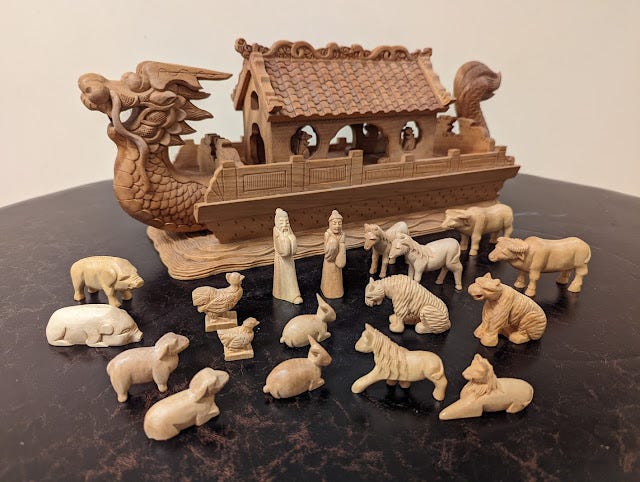 We hope to open our Noah's Ark exhibit to the public sometime in the fall. Until then, it is only available for viewing by museum patrons. If you'd like to keep posted about news of the exhibit and previews, subscribe to the museum newsletter on this page.