Discover more from Rationalist Judaism
Exploring the legacy of the rationalist Rishonim (medieval sages), and various other notes, by Rabbi Dr. Natan Slifkin, director of The Biblical Museum of Natural History in Beit Shemesh. The views are those of the author, not the institution.
Over 4,000 subscribers
News Roundup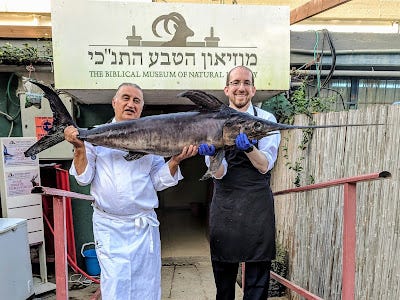 1. The Feast of Legends from the Sea was amazing! A full write-up is forthcoming, but meanwhile you can look at a partial photo album at this link. Regarding the kashrut of the pièce de résistance - the swordfish - see my article at this link.

2. In this week's Jewish Press I have an article about creation and evolution, which you can read online at this link. Unfortunately in the print edition they edited what I wrote - in the version that I sent, I did not describe people as being "ignorant of modern science."

3. I am traveling to the US next week. For Shabbat parashat Noach, I am speaking at Young Israel of Brookline (Boston); for parashat Lech Lecha, I am speaking at Beth Aaron in Teaneck. On Tuesday October 16th, I am speaking at the Sixth Street Synagogue in Manhattan, on the topic of Rationalism vs. Mysticism. If you'd like to arrange a lecture, or a meeting about the development of the Biblical Museum of Natural History, please email me.

4. Our next spectacular museum event is in just over two weeks, in Teaneck - A Biblical Feast of Birds and Beasts! If you're interested in attending, write to office@BiblicalNaturalHistory.org.