Discover more from Rationalist Judaism
Exploring the legacy of the rationalist Rishonim (medieval sages), and various other notes, by Rabbi Dr. Natan Slifkin, director of The Biblical Museum of Natural History in Beit Shemesh. The views are those of the author, not the institution.
Over 4,000 subscribers
New Ban: Pshat
There's a Hebrew five-volume work titled Peshuto Shel Mikra which is joining the ranks of books that have been banned (and I'm running out of space on my banned books shelf). The zealots behind the ban are taking things to a new level. It's not just pashkevilim; they are mass-calling people in Israel with a recorded message, and there's even a website detailing the condemnations! The website declares that "We have received a clear Psak that it is a mitzva to burn the book called Pshuto Shel Mikra" (emphasis added).

I haven't yet managed to fully investigate the situation, but here are some preliminary thoughts on this new ban, which shares some significant similarities with the ban on my own books.
The signatories to the ban are various Israeli charedi rabbonim along with many members of the American charedi rabbinic leadership - Rav Malkiel Kotler and others from Lakewood, Rav Elya Ber Wachtfogel from South Fallsburg, Rav Aharon Feldman from Ner Israel, and others. The publishers of the book have posted a defense, but have also essentially backed down and have agreed not to reprint the book until various "clarifications" have been made. (They should not be criticized for weakness. This kind of pressure is very difficult to stand up against. I was only able to hold my ground because I was young and it was easy for me to simply leave the charedi world.)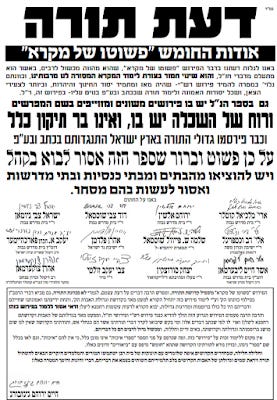 When something like this happens, the knee-jerk reaction of everyone outside the charedi world (and many people within the charedi world) is to assume that the ban is utter nonsense and the book must be very valuable. But I didn't like it when people reacted that way to my own book ban, and I don't like it here either. In the same way as a negative opinion of a book by someone who hasn't read it isn't worth very much, a positive opinion of a book by someone who hasn't read it also isn't worth very much.

It's true that such a hysterical reaction is usually indicative of a problem with the person engaging in hysteria rather than the person being banned. But on the other hand, there is usually a genuine cause for concern, even if the zealots are failing to acknowledge its legitimacy and/or blowing things out of proportion. That was certainly the case with my own books, where I wrote a two-part defense of the ban on my books as a social policy (even though my books were not actually heretical). And it's also the case here.
As I gather (I have only just acquired my own copy, and have not studied it yet), the book gives a peshat explanation of the Torah. And it's the actual peshat - not the "peshat" of Rashi, which actually incorporates a substantial amount of Midrashic exegesis. Those banning the book raise several objections. First is that The Gedolim condemned a similar such work in the past (Chumash HaMevo'ar). Second is that it is unthinkable to replace Rashi as the primary commentary. Third is that Rashi's commentary is the only legitimate peshat. And fourth is that the type of peshat that is detached from Chazal's exegeses is itself a dangerous corruption of Torah which leads to heresy.
With regard to the Gedolim having condemned a similar such work in the past, my friend DH pointed out that while it's true that Rav Shach and Rav Elyashiv issued such a condemnation against Chumash HaMevo'ar, others, such as Rav Shlomo Zalman Auerbach, Rav Wosner and Rav Zalman Nechemia Goldberg subsequently disagreed and endorsed the work.
What about replacing Rashi as the primary commentary? There were indeed those who were opposed to such things. But that's exactly what ArtScroll does, along with numerous others. 

As for the claim that Rashi is the only authorized peshat, that's just plain wrong. Eric Lawee, in two excellent articles, points out that not only Rashi's grandson Rashbam but also many Sephardic scholars disapproved of Rashi incorporating Midrash into peshat.
And what of the fourth objection, that giving straightforward reasonable explanations of pesukim leads to heresy? Well, they might have a point there.
Orthodox Rabbinic Judaism is built around a very particular approach to Scripture. Learning pesukim according to their straightforward, most rational meaning, without these layers of interpretation, is indeed potentially threatening. People who say otherwise just aren't aware of what a straightforward interpretation of various passages in the Torah would actually look like (and they are probably better off not knowing). This is why bible scholars such as James Kugel point out that academic Bible study is not only very different from traditional Torah study, it is downright incompatible with its religious goals. But at the same time, it is undeniable that there have been many great Torah scholars over history who have taken approaches to at least parts of Torah which are closer to this form of study than to the conventional contemporary charedi approach.

The situation is thus very similar to the controversy around my own books, which was at root about rationalism. Yes, the rationalist approach is indeed potentially dangerous. However, it has nevertheless been legitimized by many great Torah scholars, from the Geonim through Rambam through Rav Hirsch through my own mentors. Likewise, many of the statements in Peshuto Shel Mikra which the zealots declare to be "heretical" are also, apparently unbeknownst to them, found in the writings of universally accepted great Torah scholars. Furthermore, banning such an approach involves its own problems - not to mention that it is guaranteed to instantly give enormous publicity and appeal to that which they are trying to ban!
I hope in future posts to address this topic in more detail. Meanwhile, my sympathies go out to the many fine Torah scholars involved in producing Peshuto Shel Mikra, who clearly worked very hard with the best of intentions, and are now being branded as having "wicked designs to tear down the emunah of Klal Yisroel." As I know from my own experiences, it's a horrible thing to go through, and I wouldn't wish it on anyone.
Well, almost anyone.
(If you'd like to subscribe to this blog via email, use the form on the right of the page, or send me an email and I will add you.)