Discover more from Rationalist Judaism
Exploring the legacy of the rationalist Rishonim (medieval sages), and various other notes, by Rabbi Dr. Natan Slifkin, director of The Biblical Museum of Natural History in Beit Shemesh. The views are those of the author, not the institution.
Over 4,000 subscribers
Natan the Great, and the Implications for Charedim and Palestinians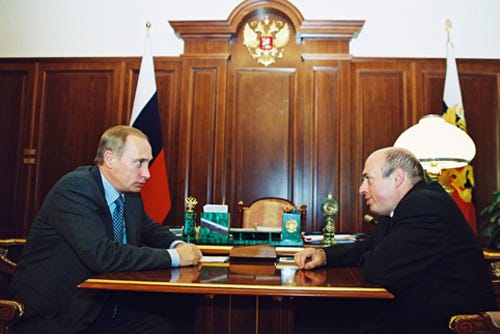 Today is the thirty-third anniversary of the release of Natan Sharansky from the Soviet Gulag. While he doesn't usually wear a kippah, Sharansky is surely one of the greatest people of our time, a true hero of our generation. His book Fear No Evil is an astonishing testimony to how one man, by virtue of bravery, shrewdness and massive willpower, was able to triumph against a superpower.

Perhaps less well known, but of even greater importance, is Sharansky's book The Case For Democracy. If there's one book that should be required reading for everyone with any say on foreign policy, it's this one.

In The Case For Democracy, Sharansky explains that all societies fall into two basic categories: Free societies, and fear societies. In free societies, people have the right to express dissenting views without concern for repercussions such as imprisonment. A society which does not protect dissent will inevitably be founded upon fear.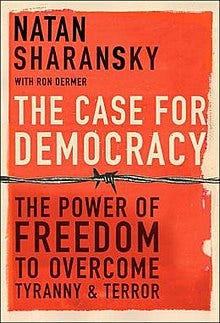 (When I first read this, several years ago, I was instantly struck by the parallels with charedi society, which brooks no dissent. Sharansky writes that crucial to the power of a fear society is "a regime's ability to control what is read, said, heard, and above all, thought. This is how a regime based on fear attempts to maintain a constant pool of true believers.... All fear societies are based on a certain degree of brainwashing." The parallels are obvious.)

Sharansky further explains that true democracies can only emerge in free societies. And it requires those freedoms to be well established, in terms of a free press and independent courts. In contrast, tyrannical regimes stay in power by repressing their populations, using a combination of force, threats and information control. It also requires the manufacture of external enemies, to maintain internal stability and justify repression. The important consequence of this is that non-democratic regimes must maintain a constant state of conflict and are inherently belligerent.

(Again, there are clear parallels to charedi society. Every so often, they need to create an external enemy - Steinsaltz, Modern Orthodoxy, Slifkin, Open Orthodoxy. That helps them rally the troops and maintain control.)

Sharansky translates this to the Israeli-Palestinian conflict. He demonstrates that as long as the Palestinians run a fear society, it will be impossible to ever reach peace with them. The leaders of the Palestinians need to keep Israel as an enemy, in order to maintain power. Any "peace plan" which does not include freedom for Palestinians from Palestinian repression is doomed to fail.

But there is one aspect of Sharansky's argument with which I am not at all sure that I agree. He argues that while it is impossible to make peace with Palestinians with the current structure of their society, most people, including most Palestinians, would prefer to live in a free society. The exhilaration of freedom is vastly preferable to living in fear.

It is not at all clear to me that this true. While people enjoy freedom, they also enjoy emotional security, tribal identity, and purpose. Again, think of the analogy to charedi society. True, there are many secret dissidents. But there are also countless others who prefer to be in a situation where other people do the thinking for them, and in which they are part of a close-knit homogeneous group which valiantly struggles against the rest of the world.

And so, I am not convinced that most Palestinians would prefer to live in a free society. Maybe yes, maybe not. But the crucial point is that as long as such a society does not exist, any so-called "peace plan" is a recipe for disaster. And meanwhile, our task is to explain that to the rest of the world, and to urge them to fight for Palestinian rights - to live in a free Palestinian society.