Discover more from Rationalist Judaism
Exploring the legacy of the rationalist Rishonim (medieval sages), and various other notes, by Rabbi Dr. Natan Slifkin, director of The Biblical Museum of Natural History in Beit Shemesh. The views are those of the author, not the institution.
Over 4,000 subscribers
My Elephant Idol
Ever have one of those days? I just had two of them. I'm not going to go into the various reasons why they were so lousy - suffice it to say that (a) it is very upsetting how many people in the Beit Shemesh city administration seem to have no desire to improve the city, and (b) my family are refusing to go into my car because something that I transported made it smell so bad.

Anyway, this afternoon, even though I was totally not in the mood for it, I decided to switch with the guide at the Biblical Museum of Natural History, and take over leading the tour. It was a large and diverse mixture of religious Jewish tourists from the US and Australia, secular Jewish students from South Africa, and a Hindu family from India. Leading the tour lifted me right out of my bleak mood; it's always immensely rewarding to see people so excited and happy as they learn so much about Torah and nature.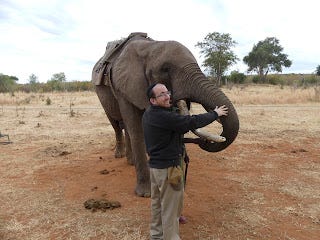 Pictured: Not my elephant idolAs they left, one of the men from the Hindu family approached me to thank me. He said that they had heard a lot about the museum (in India?!) and they were so happy that they were able to come. As a token of their gratitude, he pushed a gift into my hand: a keychain with a gold-painted replica of an elephant's head. He told me that it was a Ganesha, the elephant-headed god of wisdom, and that it would protect the museum.

I was very touched, and thanked him as he left. But I was left in a quandary. It was a bona fide idol! I asked my Rav and he said that while he's not a specialist in the halachos of idolatry - it doesn't tend to come up on a regular basis - it would appear to be problematic to keep it.

This was disappointing. After all, it's not as though I am ever going to be worshiping an elephant-headed deity. Idolatry is so not a concern in our society. And it had really symbolic value to me, as representing the happy conclusion to a day that had started so badly. Still, halacha is halacha.

Yet it occurred to me that actually, I can understand the halachic problem. I was on the verge of considering this idol to be a good-luck charm. And the idea that a physical object would have the metaphysical ability to help me goes against the very essence of monotheistic Judaism.

My only remaining question is, how is a hamsa, or a silver segulah ring, any different?