Discover more from Rationalist Judaism
Exploring the legacy of the rationalist Rishonim (medieval sages), and various other notes, by Rabbi Dr. Natan Slifkin, director of The Biblical Museum of Natural History in Beit Shemesh. The views are those of the author, not the institution.
Over 4,000 subscribers
Museum News
Here are some exciting news items from The Biblical Museum of Natural History!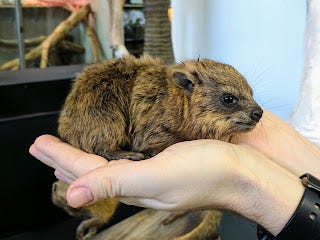 I. Baby Boom
There's been an incredible baby boom at the museum over the last few weeks. We've got fluffy yellow ducklings, teeming locusts, cute guinea pigs, tiny bumblebee-like quail chicks, and boisterous black-and-white rats. Best of all, one of our hyraxes gave birth to four adorable pups! Their agility is extraordinary. A few hours after being born, they could already leap several times their own height; one can well understand why Onkelos gives them the Aramaic name of tafza, "leaper." (Regular readers of this blog will know where they mentioned hyraxes in Shacharis today.)

II. Live from The Biblical Museum of Natural History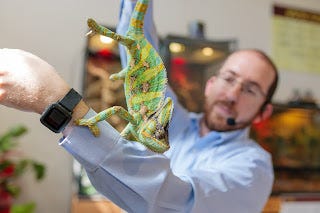 We are pleased to announce the availability of live online tours and classes at the museum! Our new high-speed network connection enables groups that are not able to visit Israel to nevertheless enjoy a personal tour of the museum. Through the generosity of Ben and Michelle Mandelbaum, we will also be offering the opportunity for online participation in our forthcoming in-depth "Night At The Museum" lecture series. To learn more about either of these options, please write to office@biblicalnaturalhistory.org.

III. Africa 2017
There are just six spots remaining for this year's Torah Tour of Africa! Join safari drives watching the Big Five in private game reserves! Take a riverboat safari down the Chobe river in Botswana, amidst hippos, crocodiles and elephants! See Victoria Falls in Zimbabwe, one of the seven wonders of the natural world! Visit the Cape of Good Hope and see Africa's penguins! For more details and registration, see http://www.torahinmotion.org/travel/africa.

IV. Please Evaluate Our Work!
If you've been to the museum, please take a few minutes to complete our visitor evaluation form at this link. This is enormously important for us to evaluate our work both for ourselves and for others. Thank you for your assistance!

V. Pesach Tours
Spring is in the air, and Pesach is fast approaching! We will be running tours throughout chol hamoed, as well as in the days preceding Pesach (a great opportunity to get your kids out of the house!). Tours fill up rapidly in this season, so be sure to book ahead of time!