Discover more from Rationalist Judaism
Exploring the legacy of the rationalist Rishonim (medieval sages), and various other notes, by Rabbi Dr. Natan Slifkin, director of The Biblical Museum of Natural History in Beit Shemesh. The views are those of the author, not the institution.
Over 4,000 subscribers
Missing Chanukah

Some people miss Chanukah when it's over.

Some people miss Chanukah when it's happening.

(A repost from a few years ago)
Story number one: I was once at a printing house, arranging to print 2000 copies of a sample chapter about leopards from the Torah Encyclopedia of the Animal Kingdom (which you can download for free on this page). I told the (secular Israeli) woman in charge of the printing schedule that I wanted it out in time for Chanukah, because the subject matter is related to Chanukah.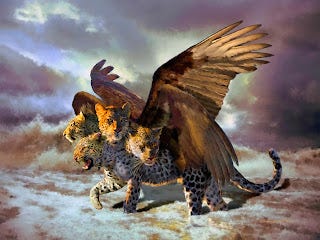 "What do leopards have to do with Chanukah?" she asked.

It was a very reasonable question. I explained that in Scripture, Daniel has a prophetic vision in which he sees various animals which represent different kingdoms. He sees a leopard (with four heads and four wings!), which represents Greece.

"But what does Greece have to do with Chanukah? she asked.

Story number two: I heard a dvar Torah which, as a launch point, discussed the halachah that if the candles on the menorah blow out, you need not rekindle them. The speaker went on to describe how the message of Chanukah is that everything is in Hashem's hands, about how the Greek army was defeated entirely by way of supernatural miracles, and about how the ultimate message of Chanukah is that Torah and mitzvos is all that counts, and hishtadlus is entirely irrelevant, and basically pointless and unnecessary.

(Meanwhile, if you're in Israel for Chanukah, come visit The Biblical Museum of Natural History and learn more about the connection between leopards and Chanukah!)