Discover more from Rationalist Judaism
Exploring the legacy of the rationalist Rishonim (medieval sages), and various other notes, by Rabbi Dr. Natan Slifkin, director of The Biblical Museum of Natural History in Beit Shemesh. The views are those of the author, not the institution.
Over 4,000 subscribers
Making a Mockery of Rabbinic Leadership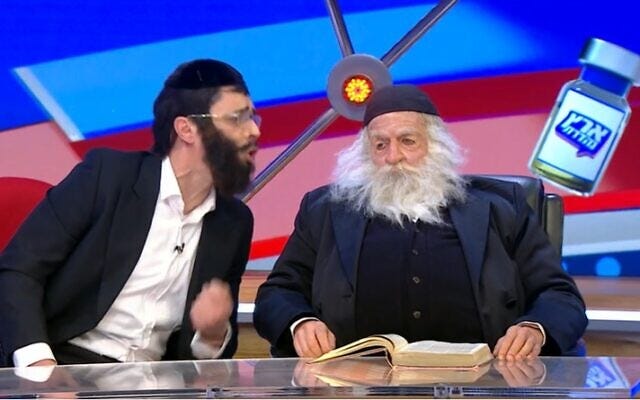 And now things heat up even further, this time in an unusual way. The satirical television show Eretz Nehederet ran a skit featuring actors impersonating Rav Chaim Kanievsky along with his grandson Yanki. Many people in the charedi community (along with certain figures in the National-Religious community) are in uproar. Moshe Gafni, head of Degel HaTorah, declared that the producers should "burn in hell."

Now, the first thing to point out is that when the charedi community makes its elderly sages into political leaders, it cannot expect that they will receive immunity from political satire. And this is especially the case when these political leaders push policies that are strongly opposed by the majority of the population, and even more so when these political leader sometimes defy government regulations and instruct their followers to do likewise! Seriously, how can anyone possibly expect these rabbinic political leaders to be immune from criticism and satire?
But what about the actual content of the skit itself? It turns out that however shameful it was, the responsibility for that shame does not lie with the producers of Eretz Nehederet.
The core "humor" of the skit was that of a brash young man manipulating his elderly, utterly out-of-touch grandfather into making irresponsible pronouncements with enormous consequences, and doing so with impunity because of the reverence and voting bloc that he wields. 
But that is indeed the appalling reality of the situation!

Over the years, I've seen a lot of accusations and condemnations of people (including myself) for "mocking the Gedolim." In some cases there is indeed inappropriate mockery, either by people who do not care to truly understand a situation, or by people who just enjoy making fun of everything. In other cases, it's appropriate criticism. 
Yet then there are other condemnations which are intriguing and strange. On more than one occasion, I have been accused of "mocking" or "attacking" rabbonim simply for accurately reporting their statements! What's actually happening in these cases is that people are deeply embarrassed or uncomfortable with certain statements from these revered rabbis, but because they can't possibly admit this (even to themselves), they shoot the messenger instead.
Yes, Rav Kanievsky is a very elderly person who is utterly out of touch with the world (which is something in which the Charedi community takes pride). Yes, he is manipulated by his grandson. Yes, he does issue irresponsible pronouncements with enormous consequences - whether defending abusers because other people did or telling his followers to disregard Covid precautions. Yes, he does do so with impunity, due to the irrational reverence of the charedi community for his statements, and the voting bloc that he thereby wields. And the same is largely true for many other leaders of the charedi community.

The situation with the "leadership" of the charedi Gedolim is a national tragedy. The notion that communal decisions are being made by Rav Chaim Kanievsky and others like him - elderly, isolated Talmudists with no real grasp of communal issues and who are being manipulated by people of poor character - does not just go against traditionally preferred models of Jewish leadership; it's a joke with tragic consequences. Anyone who contributes to the myth of such leadership is responsible for the harm and embarrassment that it causes. 
Yes, a mockery was made of rabbinic leadership - but not by Eretz Nehederet. There could never have been such a skit mocking Chief Rabbi Sacks. Because respect for his rabbinic leadership was not something that others demanded for him - it was something that he earned.

Further reading:

Mishpacha, Gedolim and Decisions

* Buy Rationalism vs. Mysticism: Schisms in Traditional Jewish Thought at this link *