Discover more from Rationalist Judaism
Exploring the legacy of the rationalist Rishonim (medieval sages), and various other notes, by Rabbi Dr. Natan Slifkin, director of The Biblical Museum of Natural History in Beit Shemesh. The views are those of the author, not the institution.
Over 4,000 subscribers
Magnetism and Miracles
Following is a brief address that I delivered today at the dedication of the Lee and Anne Samson Interventional Neuro-Radiology Unit at Shaarei Tzedek Hospital.
 

Mayor Barkat, Professor HaLevy, my dear father-in-law, HaRav Drori, HaRav Stav, Rav Karlinsky, Former Minister Livnat, distinguished guests - and my kids,

It's very special to be at this event, the dedication of the Lee and Anne Samson Interventional Neuro-Radiology Unit, for four reasons.

First, because it is dedicated by, and in honor of, my wonderful father-in-law and my beloved late mother-in-law.

Second, because this is a unit that will be improving and saving lives, and you don't get much more important causes than that.

Third, because this is a tremendous achievement for Jerusalem, the holiest city in the world.

But it's the fourth reason that I would like to focus upon, because it occurred to me that it might be overlooked. And that is the religious significance of Interventional Neuro-Radiology.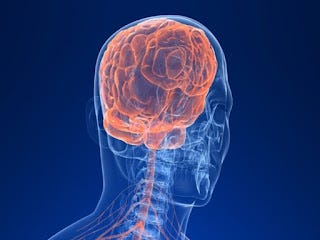 Interventional Neuro-Radiology uses highly sophisticated imaging techniques - a combination of magnetic fields, electric field gradients, and radio waves - to enable surgical procedures to be performed through small incisions in the skin, directly inside the affected blood vessels.

Eight hundred years ago, Rabbi Shlomo ben Aderet, perhaps better known by the acronym Rashba, wrote a heated critique of Rambam. One of his critiques was related to Rambam's dismissal of all magic as being superstitious nonsense. Rashba argues that there is clear evidence against Rambam's position. He says that there are phenomena that undeniably exist, and yet for which there can be no scientific explanation. The example that he brings is the magnet, and its use in a compass. These things operate neither in the realm of the miraculous, nor in the realm of the natural; instead, they operate in the realm of segulah, which is probably best translated as "occult properties." Rashba notes that "the wisest of scholars in the sciences can never grasp the nature" of such things.

Eight hundred years later, nobody would argue that magnets, and other forces of a non-tangible nature, are not in the realm of the natural. We understand a tremendous amount about magnetism and radiation and all kinds of energy fields, and we realize that even though you can't see magnetism or radiation, they are nevertheless natural properties of the physical universe. The people who design and use the equipment in the Interventional Neuro-Radiology unit are scientists and technicians, not wizards.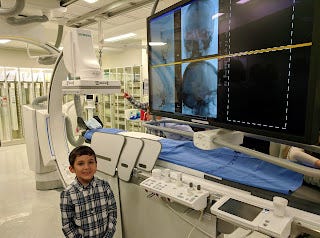 But this does not mean that these machines are not miraculous! The fact that the universe exists with invisible and yet real and regular forces, which man has been able to use his mind to discover, and which he has even learned how to generate and to manipulate, to see inside his very own body - is this not a miracle? It surely is. It's a tremendous expression of the wonder of the universe that God has created. So, as we stand here today, grateful for this medical marvel, we should also marvel at the wonder of God's universe, that made it possible. Thank you.