Discover more from Rationalist Judaism
Exploring the legacy of the rationalist Rishonim (medieval sages), and various other notes, by Rabbi Dr. Natan Slifkin, director of The Biblical Museum of Natural History in Beit Shemesh. The views are those of the author, not the institution.
Over 4,000 subscribers
Mad Dogs and Rabid Hyenas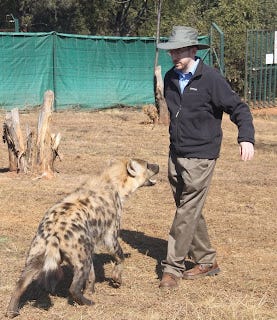 Here's a problem facing me at the moment. I am in the process of making editorial corrections to the first volume of The Torah Encyclopedia of the Animal Kingdom, dealing with wild animals. This is a comprehensive work that is intended to include every reference to these animals in Tanach, Gemara and Midrash. And the chapter on hyenas is presenting me with particular difficulties.

Previously, I have discussed the Gemara's description of the hyena changing gender, and the way that the Bavli understood the Mishnah's mention of a cheetah (bardelas) as referring to the hyena. There is a further particularly peculiar reference to the hyena, under its Aramaic name of afeh. This is regarding a recommended remedy for someone who has been bitten by a mad dog and is at risk of contracting rabies:

What is the remedy? — Abaye said: Let him take the skin of a male hyena and write upon it: I, so-and-so, the son of that-and-that woman, write upon the skin of a male hyena: "Hami, kanti, kloros, God, God, Lord of Hosts, Amen, Amen, Selah." Then let him strip off his clothes, and bury them, in a grave, for twelve months of a year. Then he should take them out and burn them in an oven, and scatter the ashes. During these twelve months, if he drinks water, he should only drink it out of a copper tube, lest he see the shadow of the demon and be endangered. (Talmud, Yoma 84a)
Now, how am I to discuss this in the book, bearing in mind that it is intended for a broad readership?

I can point out that spotted hyenas (though not the striped hyenas of the Talmud) are, curiously, the only carnivores known to be able to carry the rabies virus without suffering any ill-effects. But this would not appear to be particularly relevant. Even if it was somehow known in antiquity that spotted hyenas can contract rabies without harm (which seems highly unlikely), and even if that belief was transferred to striped hyenas (or if the phenomenon also exists with them), it still would only, at best, account for why people would relate hyenas to mad dogs. It would not mean that writing an incantation on a hyena hide, then burying one's clothing and later burning it, cures rabies.

Catering to the sensibilities of many readers will mean presenting this as the folk-medicine that was common in that place and time. This was indeed the view of authorities such as Rav Sherira Gaon: 

"We must inform you that our Sages were not physicians. They may mention medical matters which they noticed here and there in their time, but these are not meant to be a mitzvah. Therefore you should not rely on these cures and you should not practice them at all unless each item has been carefully investigated by medical experts who are certain that this procedure will do no harm and will cause no danger. This is what our ancestors have taught us, that none of these cures should be practiced, unless it is a known remedy and the one who uses it knows that it can cause no harm."
A similar statement can be found in the famous treatise of Rabbeinu Avraham ben HaRambam, and it was also endorsed as a legitimate (albeit minority) view by Rav Shlomo Zalman Auerbach. These views were also cited by my own mentor, Rav Aryeh Carmell ztz"l.

On the other hand, according to Rabbi Moshe Meiselman, this remedy was certainly effective, at least in Chazal's time and place. Rabbi Meiselman claims that Rav Sherira Gaon just meant that we do not know how to apply Chazal's remedies, that the treatise of Rabbeinu Avraham ben HaRambam is a forgery, that Rav Shlomo Zalman was writing off-the-cuff and should not be taken too seriously (pp. 101-2), and that Rav Carmell was a proponent of heresy!

Rabbi Meiselman does not explicitly discuss the hyena remedy in his book - presumably because it would look quite foolish for him to endorse writing incantations on hyena skins, burying clothing for a year and then burning it, and warning against seeing demonic shadows in water. But this is clearly his position, since he emphatically states that there is no basis for claiming that any of Chazal's remedies were simply mistaken, and that to do so is called "mocking the words of the Chachamim" (p. 233). And, according to a review of Rabbi Meiselman's book by Rabbi Raphael Fuchs, which appeared in Yated Ne'eman, The Jewish Press, Kuntrus, and Yeshivah World News, Rabbi Meiselman is one of the "select few" who is qualified to write about such a topic, and demonstrates "an extensive understanding of science from a sophisticated point of view." Thus, many readers will expect to be told that writing incantations on hyena hides was indeed an effective cure for rabies.

So, what do I put in the Encyclopedia, which is not intended to be a work on conflicts between Torah and science, but rather a comprehensive guide to all references to animals in Torah literature? Should I even mention the view of Rav Sherira and Rabbeinu Avraham? Should I mention that Rabbi Meiselman considers the hyena remedy to have been effective? There are all kinds of different ways of phrasing things, and no single correct way. Whatever solution I come up with, there will be people who are dissatisfied. As I mentioned in a previous post about hyenas, siz shver tzu zein ah ZooRabbi!