Discover more from Rationalist Judaism
Exploring the legacy of the rationalist Rishonim (medieval sages), and various other notes, by Rabbi Dr. Natan Slifkin, director of The Biblical Museum of Natural History in Beit Shemesh. The views are those of the author, not the institution.
Over 4,000 subscribers
Lunch with the Piecemaker
Shimon Peres has passed away at 93. I thought that it would be appropriate to re-post the following post, which I originally posted in January 2012: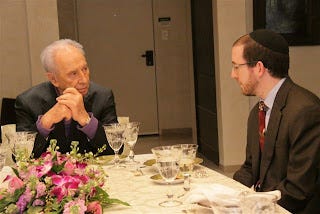 A while ago, I wrote a post about age and leadership in the Orthodox world. Later that day, I gained further perspective on this topic when I was privileged to have lunch with Shimon Peres, the octogenarian President of Israel. (No, I can't reveal the how's and why's of the experience, sorry!)

Shimon Peres is 88 years of age and is the oldest head of state in the world. I asked him if he still remembered meeting the Chafetz Chaim for a berachah when he was a child; he joked that he hasn't been allowed to forget it!

We spoke about legendary figures from history such as Ben-Gurion. Peres told me the story of how in 1945, when he was still called Shimon Perski, Ben-Gurion went with him on a surveying trip in the Negev. Perski discovered the nest of the rare and spectacular bearded vulture, which is called peres in the Torah, and he promptly decided to change his European name to the Hebrew Peres.

I asked the President if he knew why the bearded vulture is called peres. He suggested that it is from the phrase lifros kenafayim, to spread the wings, referring to its huge wingspan. However, that is spelled with a sin rather than a samech. I informed him of another suggestion that has been put forward by Biblical commentators: that it is from the root meaning "piece." The bearded vulture is famed for making pieces. It eats bones, which it does via picking them up, flying high over rocks, and then dropping them and smashing them to pieces, as you can see in this video:




I told him that the name Peres therefore means "piecemaker," which, if spelled differently, is a name that I am sure he appreciates!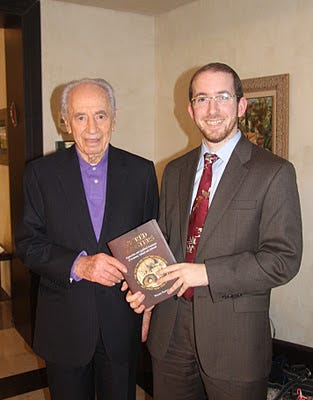 Anyway, getting back to the subject of age and leadership: While the role of president in Israel is obviously nothing like the role of president in the United States, the President of Israel is much more connected to national politics than, say, Queen Elizabeth, and has frequent, lengthy meetings with the prime minister. Despite his advanced age, Shimon Peres still demonstrates keen intelligence, a good memory, and a great sense of humor. He works harder than most people half his age. He gets up at around 5:30 in the morning, and aside from a rest in the middle of the day, he works until very late at night. He reads voraciously (I just hope that he has time to read the new books that were added to his library yesterday). Without going into detail, I can attest that he has made tremendous personal sacrifice for his job. His staff, who made quite an impression on me, love and revere him and the office of the presidency, and they are in awe of how much he is able to do at such an age.

While I certainly don't agree with Peres' political views, and I was never happy with him as a politician, I think that he is excellent and invaluable to Israel as a president. But even those who do agree with his politics would probably not want him to serve as prime minister at the age of 88. There have been democratically-elected world leaders in their seventies, but eighty-eight is a different league entirely. Yes, Shimon Peres is in incredible shape, both physically and mentally, for his age. There is no question that he is of sound mind. But during the hour and a half that I spent with him, I was very conscious at all times that I was with a very elderly person. This does no harm - it may even help - with the role of president, but it would surely be a hindrance to being prime minister.

The word zaken is homiletically explained to be an acronym of zeh kanah chachmah. With age comes wisdom, and there are great Torah scholars of very advanced age who are likewise of sound mind and are an invaluable source of wisdom. My own mentor, Rav Aryeh Carmell ztz"l, was well into his eighties and still teaching me wisdom. But political leadership requires a degree of strength and vigor that is rarely found with the very old. Is it possible? I suppose so; but certainly in most cases, people should eventually be allowed to retire from such roles.

Charedi society has reformed many aspects of rabbinic leadership, such as transferring it from community rabbis to roshei yeshivah, investing it with broad political leadership, and innovating many aspects of Daas Torah. But, as discussed previously, it is the ostensible investment of this leadership in people over a hundred years old (let alone 88), never allowing them to retire from this role, which is perhaps the most tragic. Respect and appreciate them for what they are; don't force them into keeping a role for which they are not suited.