Discover more from Rationalist Judaism
Exploring the legacy of the rationalist Rishonim (medieval sages), and various other notes, by Rabbi Dr. Natan Slifkin, director of The Biblical Museum of Natural History in Beit Shemesh. The views are those of the author, not the institution.
Over 4,000 subscribers
Leopards, Africa, and other stuff

1. Chanukah is approaching... and that means leopard season! The sample chapter from my forthcoming Torah Encyclopedia of the Animal Kingdom, about leopards and Chanukah, can be downloaded at http://www.zootorah.com/encyclopedia.

Note that I have made some changes based on feedback from last year. Each section now has a subheading, describing whether that section relates to natural history, identification, symbolism, etc. What do you think? Also, if you are a professional user of Adobe InDesign, I would like to hire you for a consult!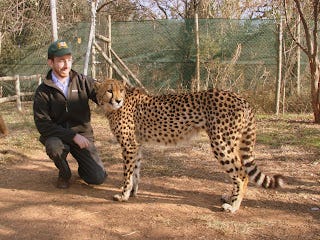 2. This July, you can participate in the ultimate Zoo Torah experience - a safari in Africa! It will include private game reserves, a riverboat safari in Chobe, Victoria Falls, Cape Town, and much more, all accompanied by fascinating lectures on the animal kingdom in Jewish thought. For details, see http://www.torahinmotion.org/programs/live_program/5440, or write to info@torahinmotion.org with the subject "Rabbi Slifkin African Safari."

3. I am currently planning my lecture tour in the NY region for early February. Both of my Shabbatot are booked (West Orange and Plainview), but if you are interesting in having me speak at your shul/ college/ school during the week, please write to me at zoorabbi@zootorah.com.

4. If you're visiting Israel (or fortunate enough to live here), don't forget that you can enjoy the Zoo Torah Experience at my private mini-museum in Ramat Bet Shemesh. Details at http://zootorah.blogspot.co.il/2011/10/zoo-torah-experience.html. 

5. Don't forget that each Sunday, I am delivering a series of live internet video classes on Judaism, science and rationalism. Learn more and sign up at http://www.torahinmotion.org/programs/online_program/5437


6. My www.ZooTorah.com website is currently being redesigned. It's going well, but we are having a hard time coming up with a good design for the header logo. Here's what I came up with, but it needs improving, including making it transparent so as to show up well on a dark background. If you're a Photoshop pro, and you can improve it or come up with something better, that would be great!