Discover more from Rationalist Judaism
Exploring the legacy of the rationalist Rishonim (medieval sages), and various other notes, by Rabbi Dr. Natan Slifkin, director of The Biblical Museum of Natural History in Beit Shemesh. The views are those of the author, not the institution.
Over 4,000 subscribers
Laughable Lunatics or Dangerous Inciters?
How should one respond to the crazy rantings of "Rabbis" Yosef Mizrachi and Yaron Reuven?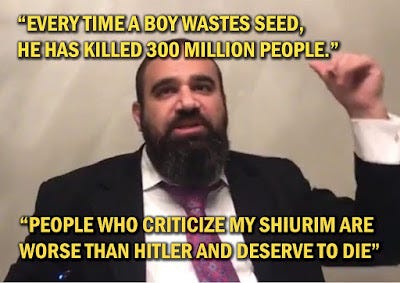 I've always thought that these two narcissistic clowns are nothing more than a great form of entertainment. Yosef Mizrachi, with his ridiculous theological claims about divine punishment, his messianic delusions about himself, and his conviction that any other rabbis who criticize him are the greatest enemies of the Jewish People. Yaron "Ron" Reuven, with his shady claims of having been a Wall Street superstar, fanatically obsessed with "wasting seed," and his preoccupation with suffering and punishment. What a pair of jokers!

Last week, the dynamic duo posted a video in which their hellfire accusations against myself and thirteen other rabbis (including Lord Rabbi Sacks and Chief Rabbi Mirvis) were set to a rousing cinematic score and a mixture of film clips from various apocalyptic Hollywood movies. I thought that it was hilarious! I loved it, and the first thing that I did was download it, in case it was ever removed. When, after a day, they removed it (evidently they got too much heat about it), I promptly re-uploaded it to YouTube myself! Their rantings against myself and my colleagues doesn't hurt us; it just discredits Mizrachi and Reuven, while providing the rest of us with great entertainment. (Alas, Yaron Reuven filed a complaint to YouTube and they deleted it. It's kind of odd that he protested my usage of his video of other people's videos!).

But I'm beginning to think that I am mistaken. These two jokers are no laughing matter.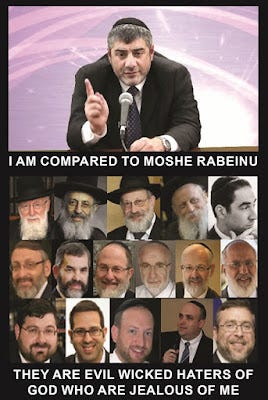 First of all, while you can't believe their own absurd claims about having hundreds of thousands of followers, there clearly are a lot of people who are infatuated with them. This can be seen from the Facebook and YouTube comments on their posts, in which people gush over their teachings, and revel in the thought of how their critics will suffer terribly in this world and the next. This influence needs to be countered.

Second, Mizrachi and Reuven often not-so-subtly call for violence and even execution of "heretics." Now, I don't think that the two of them would ever actually act on it; Mizrachi wants to do nothing more than speak to his sniggering fans, and "Ron" Reuven already had one run-in with the law and is probably afraid of another one. But their groupies are a different matter.

Some of the most devoted followers of Mizrachi and Reuven are of poor character – crass people, hateful people, violent people. Mizrachi himself has boasted of criminals and murderers who are followers of his; he once laughingly described how he had a criminal devotee who wanted to actually murder one of his critics. Mizrachi says that he talked him out of it, but will these inciters of hatred always be able to put out the fires that they light?

In the notorious video shared previously, Reuven describes how the law of mesis mandates that someone who inspires another to worship idolatry must be put to death, and immediately follows that with a clip of Mizrachi denouncing fourteen rabbis as being such heretics; the implications are obvious. In another shocking shiur, when someone challenges the outrageous theological claims that Reuven makes, he replies to the audience that people who criticize the shiurim of rabbis such as himself are trying to spiritually murder us all, that they are worse than Hitler, that we pray for such people to die, and stresses that "if it was legal, I would kill him." It's not difficult to imagine that some of their more bloodthirsty members of the cult might actually decide to act on it. And in the longer run, the idea of Orthodox Judaism developing a violent, apocalyptic cult is troubling.

The third problem is that the warped theology that they publicize on YouTube can have devastating consequences for the Jewish People when it falls into the hands of antisemites. Mizrachi's notorious denial that six million Jews were killed in the Holocaust plays right into the hands of Holocaust deniers. Reuven is even worse - he has a truly sick video in which he claims that the Jews of Germany genuinely ruined the country with their financial greed and sexual perversions, which is why Hitler wanted to kill them. Needless to say, this video has been enthusiastically shared by endless antisemitic website, for whom it's a dream come true to have a bearded Orthodox rabbi state that Germany's hatred of Jews was justified.

It's time to take these clowns seriously as a threat to society. To that end, a number of people are working on a multi-pronged campaign, which you can help with.

First is the accumulation of evidence. Both Mizrachi and Reuven are constantly releasing videos of multi-hour shiurim, which are excruciating to watch, but we need people to scour them for incriminating statements. Such extracts can be used to discredit them, to get them banned from YouTube, and potentially to report them to the authorities for incitement to violence and even for antisemitism.

Second is to protest. In the last few days, protests were successful in getting the TorahAnytime website to remove Yaron Reuven's videos, but Yossi Mizrachi's videos are still there. You can write to info@torahanytime.com to complain. Meanwhile, Yaron Reuven's followers tout his being a member of the Rabbinical Alliance of America, so it would be a good idea to write to Rabbi@Igud.US and protest that. (It's a very right-wing group, so saying that he badmouths Rabbi Sacks etc. won't do anything, but they might be more receptive to complains about his inciting violence, enabling antisemites, and giving Orthodoxy a bad name.)

The third way to help is to try to limit their influence as much as possible. Mizrachi's CDs are given out all over the place. While many shuls and yeshivos won't host Mizrachi or Reuven as speakers, some still do. This has to be fought.

All it takes for evil to triumph is for good people to do nothing.

(If you'd like to subscribe to this blog via email, use the form on the right of the page, or send me an email and I will add you.)